I am a big fan of almond butter. This alternative to peanut butter is a staple in my home, especially now that I'm avoiding legumes (like peanuts) as part of my Paleo lifestyle.
Almond butter is packed with essential fatty acids and multiple essential water-soluble and fat-soluble vitamins. Almond butter is an excellent source of fiber, protein, calcium, iron, folate, and zinc, and also contains phosphorous, niacin, and magnesium.
This nutritious spread is delicious for snacking on with apple slices, and it's also used in place of flour in many gluten-free recipes for cookies, muffins, and other baked goods.
Now for your Trick:
Almond butter is quite expensive, but if you can find a good price on bulk almonds, you can make your own almond butter by processing almonds in a high-speed blender or food processor until they turn into butter! If the almond mixture won't liquify enough for you, simply drizzle a bit of olive oil over the mixture and process until you reach the desired consistency. You can store your homemade almond butter in an airtight container in the refrigerator for several weeks (but it's so delicious it won't last that long).
Your Tip:
When shopping for almond butter, look for an organic brand and check the label to ensure the butter you buy contains only 100% almonds.
And your Recipe: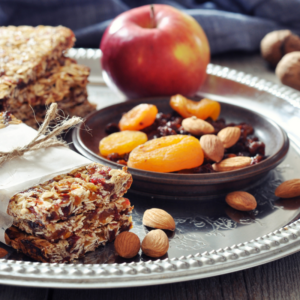 CranApricot Granola-Yums
Ingredients
1 2/3

cup

gluten-free whole rolled oats

1/2

cup

gluten-free brown sugar

1/3

cup

rice flour

1/2

teaspoon

ground cinnamon

1/3

cup

almond butter

1

teaspoon

pure vanilla extract

6

tablespoons

coconut oil

melted

1/4

cup

raw honey

1

cup

dried cranberries

1

cup

chopped dried apricots
Instructions
Preheat oven to 350 degrees.

Coat a square baking pan with a little coconut oil.

In a large bowl, combine dry ingredients (oats through cinnamon); blend well.

Stir in almond butter (or sunflower butter), vanilla, coconut oil and honey. If mixture is too thick, add a little extra honey with a few tablespoons of water.

Add the dried fruit and, using your very clean hands, blend thoroughly.

Transfer mixture to the prepared pan and press firmly into the bottom.

Bake for 30 to 35 minutes or until edges are golden brown.

Cool completely, then chill in the fridge for 30 minutes.

Cut into squares and enjoy!
Notes
*LEANNE'S NOTE: Any dried fruit would work, from dried blueberries to raisins, and if there are no nut allergies, you could add almonds, walnuts or pecans (up to a cup more)– anything you like!
PS–Want more delicious recipes like this? Check out our Holiday Treat ebook bundle!