Lately, everyone is talking about the "s word" … You know, school! Whether your kiddos are going traditional, online, or homeschooling, you need to get a nutritious meal on the table for those upcoming school nights. I've often talked about how our freezer meals can help you do just that!
But if you can't see yourself using the freezer to help you plan and prepare meals ahead of time, you're not totally sunk. Not if you have a slow cooker!
That slow cooker will help you get those school night suppers on the table with a minimal amount of effort.
You can use your slow cooker regardless of your lifestyle. Whether you've gone Paleo, Primal, Gluten-Free, or if you follow the Standard American Diet, your slow cooker can be working harder for you than it currently is.
And really, what's better than having a delicious hot meal ready for you at the end of the day?
We have many recipes that focus on the slow cooker because everyone loves the convenience of this hard-working appliance, but inspiration can be hard to come by!
I make all kinds of things in my slow cooker from classic Navy Beans and Beef Stew to Chili Verde Pork and Turkey Pot Pie. But when my kids were young, in the weeks following their return to school, I made a lot of soup. It was a lifesaver! Not only is it practically effortless to make soup in the crock for a healthy supper, but it's easy to heat up and pack in lunches the next day.
If you have a favorite soup recipe, adapt it for the slow cooker with the following tips.
Top tips for making soup in the slow cooker
Brown the meat. Yes, the crockpot will cook your soup just fine without you browning the meat, but this step will yield tastier results.
Cut ingredients uniformly. When you cut your vegetables roughly the same size, they will cook evenly.
Watch your liquids. You won't need as much liquid as your traditional soup recipe calls for. Just add enough to cover the veggies by about half an inch. If you're left with too much liquid at the end of your cooking time, remove the crockpot lid 30 minutes before you plan to serve dinner and it will evaporate.
Layer properly. Ingredients that take the longest to cook should be placed in the crockpot first. Root vegetables should be placed on the bottom where they'll have more direct contact with the heating element of the slow cooker. Next, add your meats, spices, and onions. Veggies like cauliflower and broccoli can go in next. Finally, add your liquid before covering the crockpot and turning it on. Some ingredients don't take much time to cook, so you'll want to add them in during the last hour of cook time. (Things like pasta, milk, peas, bell peppers, and spinach would fall into this category.)
And always remember that we have you covered when it comes to crock cooker recipes. I'm going to give you one here today, but our Crock Cooker Collection is full of delicious options! Click here to read more about it!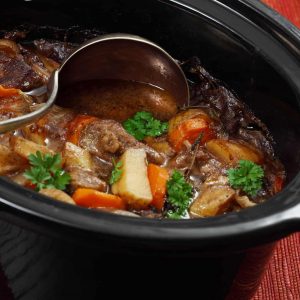 Irish Stew
Ingredients
3

tablespoons

olive oil

1

large

onion

diced

2

cloves

garlic

minced

2

pounds

beef stew meat

cut into 3/4-inch cubes

2

teaspoons

dried thyme

1

teaspoon

dried sage

Sea salt and freshly ground black pepper

to taste

4

cups

low sodium beef broth

or use homemade

4

medium

russet potatoes

peeled and cut into 3/4-inch cubes

1

cup

Guinness or dark beer

or substitute beef broth
Instructions
In a medium skillet, heat the olive oil over medium heat.

Add onion; saute for 5 minutes.

Add garlic, beef cubes, thyme, sage, salt, and pepper; saute for 5 minutes or until beef cubes have browned.

Transfer mixture to a slow cooker along with potatoes.

Pour beer (or broth) over the top.

Cover and cook on LOW for 8 hours.
Enjoy!