Bok choy, kale, cabbage, cauliflower, Brussels sprouts, and broccoli. What do all these things have in common? (Besides starting with b's or a hard c sound.) These superheroes of the plant world are all cruciferous vegetables and we should be eating lots of servings of them each week because of how important they are to our health.
See, cruciferous vegetables (the cabbage family) are full of fiber, minerals, vitamins, and phytochemicals. They're also known for their ability to protect against cardiovascular disease and for being one of our best lines of defense against certain types of cancer.
There's magic inside cruciferous vegetables that might actually stop cancer cells in the breast, lung, colon, liver, uterine lining, and cervix from growing into tumors. Diets high in cruciferous vegetables have also been linked to low rates of prostate cancer.
Scientists have found that the sulforaphane found in cruciferous veggies can actually stimulate enzymes that detoxify carcinogens before healthy cells are damaged.
Another way these superhero veggies can help protect us against cancer is by reducing the amount of oxidative stress in our bodies which is caused by an abundance of bad molecules called oxygen-free radicals. When oxidative stress is reduced in our bodies, it may also reduce our risk of many cancers including breast, lung, and colon.
This is worth eating your broccoli and brussels sprouts for, people. Seriously.
Besides preventing cancers and cardiovascular disease, cruciferous veggies can also reduce our risk of type 2 diabetes.
Per serving, some of these veggies have more minerals and vitamins than others, but they're good for you across the board. Cauliflower and broccoli will get you the biggest fiber bang for your buck, while kale gives you more than 137% of your daily recommended dose of Vitamin A. Broccoli and brussels sprouts are Vitamin C powerhouses and they're also super high in folic acid.
To get the absolute best benefit out of these veggies, eat them raw or lightly steamed so you don't cook all the goodness out of them. They also taste better before they get to the "inedible mush stage."
Get more cruciferous veggies into your daily diet by tossing them into soups, stews, salads, and casseroles. If your kids won't eat them, cook them and blend them into pizza sauce, pasta sauce, or anything else they'll eat for you. But don't give up! Your job as a parent is to train your kids to eat those healthy foods. Getting used to the strong taste of cruciferous veggies takes time so keep that in mind when you think your only option is to hide the healthy stuff!
Keep on introducing the brussels sprouts and cauliflower and be like Churchill; never, never, never give up!
What's your favorite way to get cruciferous veggies into your family members? Tell us here!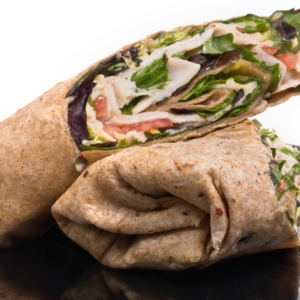 Avocado Turkey Wraps
Ingredients
2

teaspoons

mayonnaise

divided

2

teaspoons

Dijon mustard

divided

2

8-inch

whole-wheat or tomato tortillas

½

cup

shredded lettuce

6

thin slices

deli turkey meat

¼

cup

shredded Swiss cheese

1

medium

tomato

seeded and diced

1

avocado

peeled, pitted and sliced

2

slices

bacon

cooked and crumbled
Instructions
Spread 1 teaspoon each of mayonnaise and mustard on each tortilla.

Divide lettuce, turkey, cheese, tomato, avocado and bacon evenly between the tortillas.

Roll each tortilla up tightly and serve.
Notes
Per Serving: 303 Calories; 23g Fat; 15g Protein; 14g Carbohydrate; 4g Dietary Fiber; 33mg Cholesterol; 704mg Sodium. Exchanges: 0 Grain(Starch); 1 1/2 Lean Meat; 1/2 Vegetable; 1/2 Fruit; 4 Fat; 0 Other Carbohydrates. Points: 8
PS–You can receive delicious menus (complete with shopping lists!) like this delivered right to your email inbox by subscribing to Dinner Answers today!