I've been reading more and more about smoked salt in food magazines and blogs. A lot of TV chefs and home chefs seem to be talking about gourmet salts more and more these days.
USA Today has actually placed lowly old "salt" at the top of its food trend of 2012 list! Salt! It's not like it's anything new. For Heaven's sakes, it's been around since the beginning of time!
So, what's everyone all shaken up about? (lol . . . see what I did there? I crack myself up sometimes.)
The way I see it, these gourmet smoked salts not only add a distinctive smoky flavor and a pleasurable texture to foods but using them in your home cooking just feels downright luxurious for some reason. Of course, that could be because they cost a fortune to buy in the store!
4.8 ounces of rich brown, slow-smoked Alderwood salt will cost you around $7.
Of course, you know I'm going to help you out here and tell you how you can make your own for pennies per pinch!
Here's a Trick:
For even more smoke, try adding liquid smoke to your salt crystals before adding the pan to the fire.
Here's your Tip:
Smoking your own salt is dead easy—especially if you happen to have a smoker. Go ahead and experiment!
If you don't have a smoker, take two cups, or however much you like, of coarse kosher or sea salt and put it in a disposable foil pan. Light a charcoal grill and put all of the hot coals on one side for an indirect grilling setup. Toss a couple of cups of wood chips (that have been soaked for an hour in cold water and then drained) onto the coals. Place your pan of salt on the grill away from the fire and close the lid. Open the vents so that your temperature is at around 350. After an hour, you'll have more smoked salt than you can shake a stick at. (I did it again! lol)
Here's your Recipe: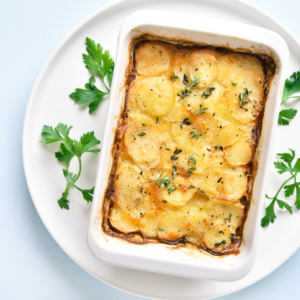 Beef-Potato Casserole
Ingredients
2

pounds

95% lean ground beef

1

small

onion

diced

1/2

medium

green bell pepper

seeded, deribbed and diced

Smoked salt and freshly ground black pepper

to taste

1 1/3

cups

water

divided

1

14.5-oz. can

diced tomatoes

un-drained

2

bay leaves

2

tablespoons

cornstarch

1

tablespoon

vegetable oil

3

large

russet potatoes

scrubbed and cut into round slices

1

cup

shredded low fat Cheddar cheese
Instructions
Preheat oven to 375 degrees. In a large skillet, brown beef, onion and bell pepper over medium-high heat; salt and pepper to taste; drain. Add 1 cup of water, tomatoes and bay leaves; bring to a boil then reduce heat and simmer for 15 minutes; remove bay leaves. In a small bowl or cup, combine cornstarch and remaining water; add to skillet and stir until thickened. In another skillet, heat the oil over medium-high heat; brown potatoes until tender; drain then place in a 13- x 9-inch baking dish; pour beef mixture on top and sprinkle with cheese; bake for 10 minutes. Cut in squares to serve.
Notes
SERVING SUGGESTION: Steamed baby carrots and steamed kale.
Try using smoked salt in place of regular salt in our Dinner Answers recipes!