I get asked this question. All. The.TIME!
So I thought I would spend a little time giving you the major differences, plus a recipe to help you see (and taste) a GREAT recipe!
First of all, a ketogenic diet is a diet that is higher in fat, and lower in carbs and protein. The paleo diet is grain-free, dairy-free, and concentrates on higher volumes of vegetables and as much protein as you need.
Keto doesn't mean dairy-free–there's a ton of cheese and heavy cream in traditional keto diets (which can be inflammatory).
Keto also doesn't mean nutrient-rich (which by the way, is a sticking point with me).
What keto does is help your body turn into a fat burner vs a sugar burner, giving your body the ability to shed weight nearly effortlessly and without hunger–once you get into ketosis (which is simply the mechanism the body uses to tell you "mission accomplished" you've turned into a fat burner!).
And being a fat burner vs a sugar burner is better for brain function, regulating hormonal fluctuations (including PCOS), perhaps overcoming blood sugar issues, lowering triglycerides, improving autoimmune conditions, calming IBS, and giving a sense of well-being and increased energy!
So that's the easy differentiators between the traditional two types of eating.
Both can be anti-inflammatory. Both have the ability to shift your body's chemistry and help you achieve weight loss goals, health goals (i.e., lower blood sugar, bring down inflammatory markers, etc.) and help you feel great as mentioned above.
BUT–traditional keto diets may not give you enough nutrients and if you're going the full dairy route with keto, you could actually be defeating yourself!
That's why I created the Hot Melt Sprint—the plan that gets you into ketosis fast, gives you the nutrients you need, and it's anti-inflammatory so you get the maximum health benefits associated with keto. 🙂 It has everything you need—amazing smoothies, fabulous lunches, and dinners to make you drool!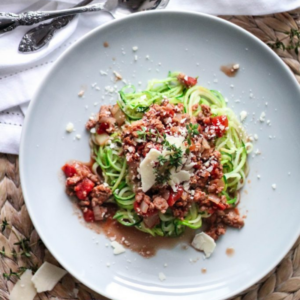 Hot Melt (keto-approved) Spaghetti
We're gunna let you in a little secret: you can still enjoy spaghetti WITHOUT the gluten heavy noodles! I know, I know. You're shaking your head in disbelief, you're assuming I've lost my mind, you think "surely, THAT is impossible!" Ohhhhh it's possible. And guess what - we use ZUCCHINI for the noodles!! ZUCCHINI!!! Before you go and turn your nose up at what sounds like the most preposterous thing to ever cross your eyes, you've gotta try it. See how absolutely delicious spaghetti can still be without the soul-sucking noodles that are your thigh' arch nemesis! The recipe is crazy simple, ridiculously yummy, and it's a comfort food that is actually GOOD for you!!
Ingredients
2

zucchinis

spiralized

1

onion

chopped

2

cloves

garlic

pressed

1

tablespoon

ghee

or olive oil

1

14.5-oz. can

diced tomatoes

or fresh equivalent

1

teaspoon

dried thyme

1

teaspoon

dried oregano

salt and pepper

to taste

dash

red wine

1

pound

Italian sausage

cooked

shredded Parmesan cheese

optional
Instructions
First up, in a large skillet, heat the ghee and add the onion.

When the onion becomes translucent, now add the tomatoes, spices and simmer a couple of minutes.

Use a potato masher to smush up the tomatoes.

Add the garlic now and red wine and simmer another few minutes.

Add the zucchini to the pan and cover.

Allow to simmer for a few minutes until cooked through, about 2 to 3 minutes.

Now add the cooked sausage and mix altogether.

Serve in a bowl, top with parmesan if you like!