The holidays can be a stressful time for a lot of people, especially this year when it seems there is nothing but doom and gloom in the economic forecast. But folks who have lived through such times as this in the past, know a thing or two about not only getting by but actually thriving. I think now is a good time to look at that.
The first thing to look at is expectations. We all have these Norman Rockwell-sized expectations that are out of whack with reality. We have to fix our own mentalities before we can get to the more practical side of things. Bring down the expectations (and guest list, if need be) and take a look at a simpler way. There's nothing wrong with having a potluck instead of putting on a lavish spread all by yourself. People love to show off their best dishes so this year, do the main course and divvy up the side dishes and dessert. How easy (and less expensive) is that?
Use this principle with your Christmas cookies too. Instead of killing yourself baking eighteen different types of Christmas cookies, invite some friends over (and their kids) to share the workload and the cost. Have everyone bring a batch of sugar cookie dough; some sprinkles and other decorative doodads, then bake 'em all up at your house. Decorate them together, take pictures of the fun then make some hot cocoa, sit down and enjoy your company and cookies.
You've just made a terrific memory! The burden of the cost of making all those cookies has been effectively spread out; everyone had a good dose of holiday cheer and got to take home a souvenir, too!
Speaking of sugar cookies. Here are the ones I make every year. Enjoy!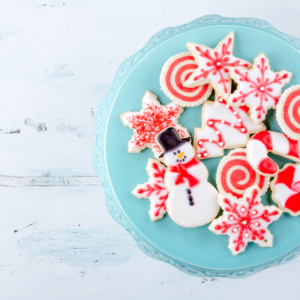 Sugar Cookies & Icing
Ingredients
COOKIES:
1

cup

unsalted butter

room temperature

2

cups

sugar

2

eggs

1/2

cup

milk

1/2

teaspoon

pure vanilla extract

4 1/2

cups

flour

4

teaspoons

baking powder

1

teaspoon

salt
ICING:
1

cup

confectioners sugar

1

egg white
Instructions
COOKIES:
In a large mixing bowl, cream butter and sugar together until light and fluffy. Add eggs and mix again. Now add milk and vanilla, mixing one more time.

In another bowl, sift together the dry ingredients. Add this to the wet ingredients 1 cup at a time, mixing well after each addition. Wrap the dough in plastic wrap and chill for at least an hour.

When it's baking time, preheat oven to 375 degrees. Divide dough into fourths, and work with one piece at a time. Roll out dough onto a floured countertop and cut out with your favorite cookie cutters. Bake for 8 to 10 minutes, cool on racks before decorating.
ICING:
Mix sugar and egg white together to make a stiff icing. If you prefer, you may use powdered egg white instead; read directions on the label to reconstitute and use in lieu of the egg white. Add food coloring to create as many colors as you want!
For more delicious holiday recipes, check out our Holiday ebooks available here!