"He had a broad face and round little belly, that shook when he laughed like a bowl full of jelly!"
Now I don't know about you, but I know that's Santa when I read those familiar lines of verse from 'Twas the Night Before Christmas. Now Santa may have had a belly, it's just plain unhealthy-even if your last name is Claus!
Belly fat is just the worst-and not just because of the cosmetic reasons why either. It's the health risk that's most concerning.
People who are more apple-shaped than pear-shaped (in other words, carry more weight around their middles than on their posteriors), have more fat around their organs (that's very hard on your body), are more at risk to develop cancer, diabetes, and heart disease. That's not fun, is it?
Here's how to find out if you're at risk. Measure your waist, measure your hips. The bigger your waist compared to your hips, the higher your risk. Your heart risk goes up as your inches go up. If your waist is bigger than your hips and you need to take this message seriously, especially if you're a woman.
Just remember, there is no magic potion or spot reduction exercise you can do to get rid of the belly fat. It takes work. I'm not going to lie to you, it takes HARD work. That's hardly earth-shattering, is it? You have to eat less (PORTION CONTROL!!), move more (EXERCISE!), and eat healthier stuff (EAT YOUR VEGGIES!). Like I said, it's no shocker.
I felt this is an important reminder as we are well into the holidays and the greasy appetizers are calling out, the candy comes pouring in from everywhere and the party invitations just seem to multiply. Now isn't the time to lose body clutter necessarily. This is more a time to think sensibly about maintaining your current weight and not gaining!
Be a mindful eater, regardless of the time of year, and let's stay healthy into 2012. Here is a heart-healthy recipe to help you and it's a snap to make, too! Enjoy!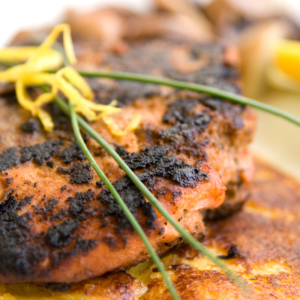 Blackened Salmon Poor Boy Sandwiches
Ingredients
6

tablespoons

low-fat mayonnaise

1/4

cup

Cajun spice mix

more or less to taste, divided*

Sea salt and freshly ground black pepper

to taste

Olive oil

6

4-6-oz.

boneless skinless salmon fillets or steaks

6

French rolls

lightly toasted with some of the inside breading removed

12

slices

tomato

1 1/2

cups

shredded cabbage
Instructions
Heat a heavy skillet over high heat for 15 to 20 minutes. Mix mayonnaise with 1 to 2 teaspoons of Cajun spice. Taste, add salt, pepper or more Cajun spice as necessary; put aside till later.

Lightly oil both sides of the salmon and sprinkle with the remaining Cajun spice (the more you add, the hotter it becomes, so heads up).

Place salmon in the hot skillet to blacken; cook 2 to 3 minutes on the first side, turn and finish cooking. Cooking time will vary based on the thickness of fish and the heat of pan. Spread 1 tablespoon of the mayonnaise mixture onto each French roll. Top each with a

blackened salmon steak/fillet, 2 slices of tomato and 1/4 cup of the shredded cabbage and serve.
Notes
SERVING SUGGESTION: Serve with a tossed green salad.
*If you can't buy Cajun spice mix or would prefer to make it yourself, here is a simple recipe: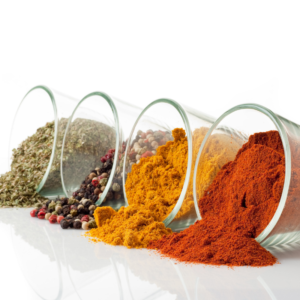 Cajun Spice Mix
Ingredients
2 1/2

tablespoons

paprika

2

tablespoons

garlic powder

1

tablespoon

black pepper

1

tablespoon

crushed red pepper flakes

1

tablespoon

dried thyme

1

tablespoon

dried oregano

1

tablespoon

onion powder

1

tablespoon

ground white pepper

1

teaspoon

mustard powder
Instructions
This makes about 2/3 of a cup. Keep it in a sealed zipper-topped bag to use again.
PS–You can receive delicious menus (complete with shopping lists!) like this delivered right to your email inbox by subscribing to Dinner Answers today!