Have you ever looked at the vibrant pink dragon fruit in the produce aisle and wondered what in the world you would do with it?
Dragon fruit is the fruit of a night-blooming cactus. It is grown in Taiwan, Vietnam, Malaysia and South America. Aside from that bright pinkish-red color, dragon fruit can also be yellow. The fruit may be either white or pink inside, and it's always speckled with tiny black seeds. The interior of the fruit is entirely edible. You can enjoy dragon fruit raw, cooked or dried.
The texture of dragon fruit is similar to kiwi because of those seeds, but the taste is a little like a melon. It is difficult to describe dragon fruit to those who haven't tried it because it is so unique.
You can eat dragon fruit just out of hand as a unique snack (after removing the inedible skin!) or you can slice it into a salad, put it in your juicer or use it as a spread.
Dragon fruit has a good deal of fiber per serving and contains a ton of micronutrients, including:
• iron
• niacin
• riboflavin
• phosphorus
• Vitamin A
• Vitamin C
• calcium
Dragon fruit is also rather high in antioxidants. This strange-looking fruit also has health benefits attributed to preventing cancer, reducing memory loss, lowering blood pressure, and evening out blood sugar levels. Dragon fruit is good for your skin, teeth, eyes, and bones.
It also looks pretty awesome on a fruit plate!
Now it's time for your Trick:
Look for dragon fruit with bright color. Avoid fruits with a brittle and brown bottom stem which is a signal that the fruit is over-ripe. When you press a dragon fruit with your thumb, it should have a little bit of give to it. If it's very firm, leave it at room temperature for a couple of days.
Your Tip:
To eat a dragon fruit, slice it open, lengthwise (it cuts very easily) and separate the fruit from the skin. Enjoy!
And your Recipe: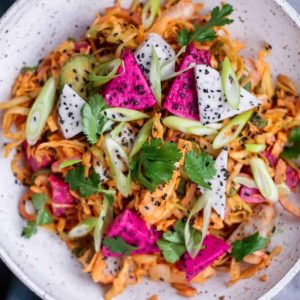 Curried Dragonfruit and Chicken Salad
Ingredients
Salad:
1

dragonfruit

peeled and cut into chunks

1

pound

cooked chicken meat

white or dark

4

cups

cabbage

shredded

1

bunch

cilantro

chopped

1/2

red onion

sliced thin

2

scallions

chopped

1/4

cup

cashews
Dressing:
1

cup

full fat coconut milk

1/2

cup

rice vinegar

2

limes

juiced

2

tablespoons

toasted sesame oil

1

tablespoon

coconut aminos

1 1/2

tablespoons

red curry paste

1

tablespoon

chili paste

1

tablespoon

freshly grated ginger

3

cloves

garlic

minced

1

teaspoon

sesame seeds

sea salt

freshly ground black pepper
Instructions
Toss all ingredients for salad (dragon fruit through cashews) in a large bowl.

In a medium bowl, whisk together ingredients for dressing (coconut milk through pepper). Seasoning with salt and pepper to taste.

Pour dressing over salad, toss, and serve!
Looking for more delicious recipes like this one? Check out our Dinner Answers program today!