It is definitely pumpkin season! We know all about those classic orange pumpkins, but what about the pretty blue pumpkins?
Queensland Blue is a gorgeous pumpkin with a light blue, silvery skin. It's a variety that hails from Australia and was introduced to the United States back in 1932. The Queensland Blue looks quite similar to the Jarrahdale pumpkin—another Australian variety.
Some people think these pumpkins look quite similar to Frankenstein's head when you look at them from the side, making them perfect for spooky fall decor—but rather than toss it in the compost, go on and eat it after it has served its decorative destiny!
This winter squash—as with all winter squash—is chock full of vitamins and minerals. The sweet flavor and dry flesh of the Queensland Blue make it excellent for baking with.
Now that you're eyeing up your neighbors' deteriorating fall display with visions of pie in your head, let's take a look at your trick!
Trick:
It can be hard to tell when a blue pumpkin is ripe. It's ready to eat when the stem is dry and starting to wither.
Tip:
The skin of a Queensland Blue is very hard, so use a good sharp knife to get into it, and take care of those fingers. Try cutting it in half and roasting rather than peeling and chopping. This makes it easier to separate the flesh from the skin.
Recipe: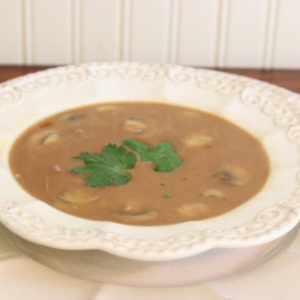 Beefy Mushroom Soup
Ingredients
1 1/2

pounds

95% lean ground beef

1/2

cup

diced onion

12

ounces

sliced mushrooms

1

clove

garlic

pressed

1 1/4

cups

low sodium beef broth

or use homemade bone broth

1 1/2

cups

low sodium chicken broth

or use homemade bone broth

1

cup

water

or more

1

12-oz. can

pumpkin puree

1/2

teaspoons

sea salt

1/4

teaspoon

freshly ground pepper

1/3

cup

skim milk
Instructions
In a large saucepan with a tight-fitting lid, brown ground beef, onion, mushrooms and garlic over medium-high heat; drain off any excess fat.

Add broths, water and pumpkin; stir until well blended, thinning with additional water if needed; season with salt and pepper.

Bring mixture to a boil then reduce heat, cover and simmer for 20 to 30 minutes.

Add milk and simmer for 10 to 15 minutes longer.
Notes
NUTRITION per serving: 352 Calories; 3g Fat; 18g Protein; 10g Carbohydrate; 3g Dietary Fiber; 31mg Cholesterol; 340mg Sodium. Exchanges: 0 Grain (Starch); 1/2 Lean Meat; 1 1/2 Vegetable; 0 Non-Fat Milk; 0 Fat. Points: 3
GLUTEN FREE: Make sure beef broth, chicken broth and canned pumpkin are gluten free.
Pumpkin Puree:
Cut top off of whole pumpkin. Cut in half, scoop out seeds pulp from center. Cut pumpkin into quarters or even eighths depending on how big it was to start!
Lay pumpkin on baking sheet and bake in 350-degree oven for 45 minutes, or until pumpkin is fork tender. Let cool and then scoop the pumpkin away from the skin with knife or spoon. Process baked pumpkin in food processor until it is smooth.
Subscribe to Dinner Answers today for more delicious recipes!