Animal bones, including beef knuckles, chicken carcasses and ham hocks, are absolutely worth saving and cooking with. If you're sticking to a grocery budget, you'll be glad to know these animal bits are good and cheap (sometimes free if you can sweet talk your butcher).
Bones are full of minerals like calcium and phosphorous. And if the bones you're cooking with still have some of the connective tissue attached, they also contain glucosamine, an important supplement to aid in bone and cartilage formation.
One of the best things about bones, of course, is that they contain marrow—one of the original superfoods! When bones are roasted, the marrow inside becomes nice and soft. Not only is bone marrow delicious, but it's absolutely full of nutrients. Beef bone marrow, especially, is very rich in taste and it also contains calcium, potassium, magnesium and sodium.
You get TONS of collagen from that bone broth–and you need it. 97% of us don't get enough. In addition to drinking your bone broth, take BeautySupport to support your body making more (after age 35, we aren't as efficient making it), and remember to get your Perfect Paleo Protein in–it's going to bump your collagen intake big time!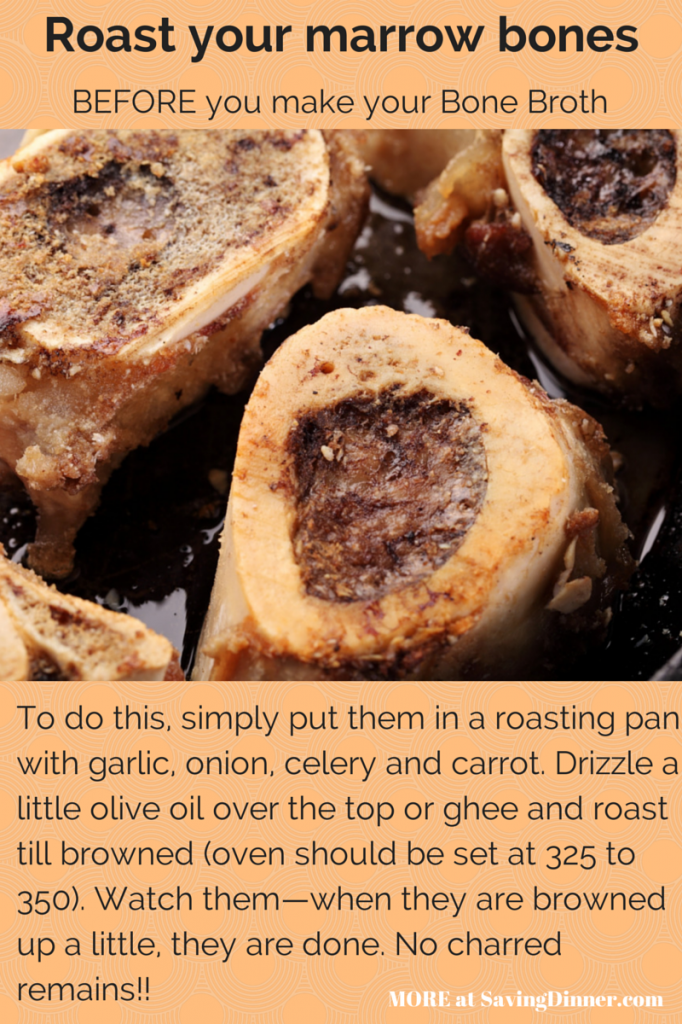 Now that I have you ready to dig into some bones, it's time for your Trick!
Roast your marrow bones before simmering in water with a bit of cider vinegar to produce bone broth, a healing elixir great for your gut, your bones, and your teeth. The added step of roasting the bones will greatly enhance the flavor of the resulting broth.
To do this, simply put them in a roasting pan with garlic, onion, celery, and carrot. Drizzle a little olive oil over the top or ghee and roast till browned (oven should be set at 325 to 350). Watch them—when they are browned up a little, they are done. No charred remains!!
Your Tip:
Never throw bones away. Even if you just had a dinner of chicken thighs. Save the bones in a freezer bag and when you have a large amount, use them to make a nice batch of bone broth.
And your Recipe: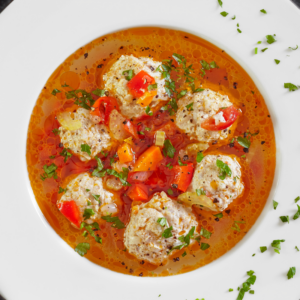 Hearty Italian Meatball Soup
Ingredients
1

pound

extra lean ground beef

1

teaspoon

dried basil

1

teaspoon

dried oregano

1

clove

garlic

pressed

2

cups

tomato sauce

3

cups

beef bone broth

1

cup

chopped onion

1

cup

chopped bell pepper

1

cup

chopped leeks

3

cloves

garlic

pressed

1

teaspoon

sea salt

1/2

teaspoon

freshly ground black pepper

1

tablespoon

dried basil

1

cup

chopped zucchini
Instructions
In a medium bowl, combine ground beef, basil, oregano, and garlic.

Make 1-inch meatballs until all of the meat is used, and place in bottom of slow cooker.

In a large bowl, combine tomato sauce, broth, onion, bell pepper, leeks, garlic, salt, pepper and basil. Pour over meatballs.

Cover and cook on LOW for 8 hours.

Turn heat to high and add zucchini, stirring well, then recover and cook for another 15-20 minutes, until zucchini is tender-crisp.

Serve immediately and enjoy!
————————————–
You'll love all of our bone broth recipes! Grab our ebook of recipes now.

Want more recipes to use all the yummy bone broth? Subscribe to Dinner answers today!