When you're trying to feed your family healthy, home-cooked meals only to find out that you or someone in your family has either celiac disease or a food sensitivity that precludes eating gluten, don't throw your hands up in defeat; meet the challenge head-on. You can do this! With just a few simple changes you can create wonderful, tasty gluten-free meals your entire family will love.
Eating gluten-free means you cannot eat any foods that contain or are made from wheat, rye, or barley.  You can't eat most grains, pastas, cereals, and many processed foods due to sneaky additives that don't necessarily proclaim they contain gluten.  It can seem daunting and make grocery shopping frustrating.
When you think about what you have to give up it can be difficult to figure out what to do next, but seriously, you've got a ton of options! You will still get to eat breads made with alternative flours like potato and rice flours, for instance.
You can freely eat meat, chicken, fish, legumes, nuts, seeds, buckwheat, rice, fruits, and vegetables. In other words– delicious whole foods, the kind of stuff I rant about all the time, LOL.
When you embark on a new eating regimen it is easier if you can find meals that the entire family will enjoy instead of cooking special just for one person. That's not hard to do when you've got a delicious recipe like this one: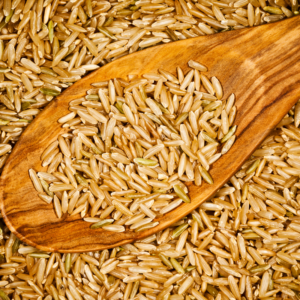 Spiced Rice
Ingredients
3

tablespoons

unsalted butter

1

cup

long grain brown rice

1/2

cup

onion

finely chopped

1

clove

garlic

minced

1

small

tart apple

peeled, cored, diced

1/4

cup

golden raisins

1 1/2

cups

chicken broth

make sure it's gluten free
Instructions
In a sauce pan, melt butter over medium heat, stir in onion, cooking until almost translucent, then stir in rice, garlic, apple and raisins. Sauté for 3 or 4 minutes. Stir in chicken broth, bring to a boil. Reduce heat, cover, simmer 16 to 18 minutes or until liquid is absorbed and rice is done. You can reduce the butter by using cooking spray, and one pat of butter.
Notes
Variations: Use a long grain wild rice mixture or brown rice adjusting the liquid and cooking time to accommodate.
If you have a rice cooker you can combine all the ingredients after sautéing in the butter, into the cooker and follow the manufacturer's instructions for the amount of liquid compared to rice and cooking times.