Popeye sang it best "I'm strong to the finich Cause I eats me spinach". Ok so Swiss chard isn't spinach but it is a leafy green vegetable similar to spinach. And it provides a variety of health benefits that include making you strong like Popeye.
When shopping for Swiss Chard look for leaves that are vivid green in color and that do not display any browning or yellowing. The leaves should not be wilted nor should they have tiny holes. The stalks should be firm and crisp and depending on where your Swiss Chard was grown they can come in a variety of colors. Speaking of growing, Swiss Chard is also easy to grow in most climates.
Do not wash Swiss chard before putting it in your fridge as exposure to water encourages spoilage. Simply place it in a plastic bag and wrap the bag tightly around the chard, squeezing out as much of the air from the bag as possible. Place in refrigerator where it will keep fresh for up to 5 days.
Swiss chard offers several vitamins and nutrients needed by the body. Large amounts of Vitamins A, C, and K are present in the vegetable. Other nutrients that make up Swiss chard include magnesium, iron, calcium, and protein. Did you know one cup of Swiss chard offers approximately 20% of your daily fiber intake?
When you are ready to cook up your Swiss Chard be sure and wash the leaves thoroughly (remember we didn't wash them before storing them in our fridge). Typically the only part eaten are the leaves, so removing them from the stems should be done immediately after washing them.
Boiling the chard can help reduce the bitter taste that is familiar with this family of foods. A common recipe for enjoying Swiss chard involves mixing a bunch of cooked, chopped leaves with olive oil, pasta, garlic, crushed red pepper, and lemon juice. You can also serve the uncooked leaves under a hot piece of chicken or fish. The heat from the meat will wilt the leaves.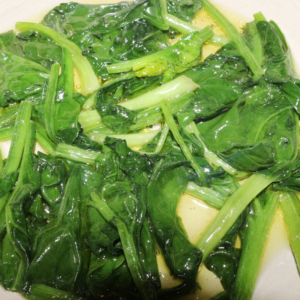 Braised Swiss Chard
Ingredients
1

large bunch

fresh Swiss chard

1

clove

garlic

sliced

2

Tablespoons

olive oil

2

Tablespoons

water

Pinch

dried crushed red pepper

1

teaspoon

butter

Salt to taste
Instructions
Rinse off the Swiss chard leaves thoroughly.

Remove the toughest bottom part of the stalk and discard. Roughly chop or tear the leaves and stem into bite sized pieces.

Heat a saucepan on medium.

Add olive oil, garlic and the crushed red peppeve. Sauté for about a minute.

Add the Swiss chard. Cover and cook for about 3 minutes.

If it looks dry, add a couple tablespoons of water. Flip the leaves over in the pan, giving those on top a chance to cook at the bottom of the pan.

Cover again and cook until done. Add salt to taste, and a small amount of butter. Serve.
Want more delicious veggie recipes? Check out our Dinner Answers program here!