This morning as I was reading my email, I saw a Madison avenue styled ad for chemotherapy. Yes, you read that right. I've also seen cancer hospitals (one of them a chain) doing their thing in prime time on TV.
A long time ago in a place not so far away, this would have never happened. Cancer was talked about in hushed tones, fear was the plumb line and there was no such thing as a print ad or commercial for cancer products!
But it's not like that today. Cancer is as ordinary as the common cold and while still feared, it's talked about a lot more openly and it's discussed at the dinner table. Thankfully, the options for treatment have improved dramatically.
On one hand, I'm happy to see this disease taken out of the closet. On the other hand, I'm alarmed that a disease with so much money spent on research hasn't been cured. If not cured, at least significantly curbed. Somewhat anyway! It seems that I am always reading about increased and growing rates of cancer. 1 in 3 people get cancer nowadays. 1 in 9 women will get breast cancer; it's scary!
And while I am pro-research, I'm also pro-personal responsibility. Research has shown that we better our odds the better our nutrition. Phytochemicals are the name of the game and they're mostly hiding in fruits and vegetables—if we eat a lot of fruit and vegetables, we're going to get those lovely phytochemicals doing their jobs inside our bodies.
And guess what? To get going with an increased intake of fruits and vegetables, it starts with a trip to the grocery store—there's the pro-personal responsibility part of the equation. There is a direct correlation between the quality of your health and the food you put in your grocery cart every week. The quality of our food affects us right down to the very cells of our bodies.
Think of it this way. Our bodies are huge mosaics made up of minuscule cells. Those cells are tiny snapshots of who we are in our entirety. Each mosaic piece is important because it defines that one small area. It isn't until you step back and look at everything that you can see a whole person. This illustration shows why each cell is so significant; each one delineates and reflects its own cell health, which in turn paints the big picture of our bodies and our health overall.
It boils down to eating well to maintain and boost the integrity of each of our cells. If we have healthy cells, we have healthy bodies. It's sort of living life in a microcosm if you think too hard on it. However, thinking in such minute terms helps us to grasp the importance of just one bite of healthy food! Eating that one bite could save a cell!
Here is a recipe that will tickle your cells' mitochondria and at the same time, put a smile on your face and satisfaction in your tummy. Enjoy!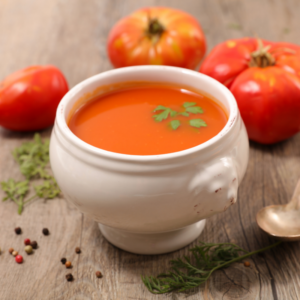 Fire Roasted Tomato Soup
Ingredients
1

tablespoon

olive oil

1

medium

onion

chopped

2

15-oz. cans

fire roasted tomatoes

with juice drained, but saved

2

cloves

garlic

pressed

1

handful

fresh basil leaves

chopped (remember to remove stems)

Pinch

sugar

2 1/2

cups

low sodium chicken broth

1/2

cup

lowfat milk

optional

Sea salt and freshly ground black pepper

to taste

4

sprigs

flat leaf Italian parsley
Instructions
In a saucepan, heat the oil over medium heat.

Add the onions and cook till onions are translucent.

Add the drained tomatoes, garlic, basil and sugar.

Cook this mixture for 10 minutes or so, stirring every so often.

Stir in the broth, drained tomato juice, bring to a boil and simmer for a couple of minutes.

Remove from the heat and let cool.

If you prefer creamier soup, blend in a blender in batches otherwise, serve it up, top with a sprig of parsley and enjoy!
Notes
Per Serving: 144 Calories; 4g Fat; 12g Protein; 17g Carbohydrate; 4g Dietary Fiber; 2mg Cholesterol; 1086mg Sodium. Exchanges: 0 Grain(Starch); 1 Lean Meat; 1/2 Vegetable; 0 Non-Fat Milk; 1/2 Fat; 0 Other Carbohydrates. Points: 4
PS–You can receive delicious menus (complete with shopping lists!) like this delivered right to your email inbox by subscribing to Dinner Answers today!