I am a big believer in planning your menus and knowing what's for dinner (good thing because I am the Dinner Diva!), but sometimes, even best intentions get thrown to the wayside. Stuff comes up, things happen, and you need an alternate plan—and I'm not talking drive-thru! What to do?
Go to the pantry! If you use my list, you'll walk away with ingredients for a quick, satisfying dinner and if you're able to scrounge up a reasonable facsimile of something resembling a vegetable, it will even be a balanced meal. But before we go there, let's build that pantry, shall we?
Here's a list of stuff I find completely indispensable:
Canned Items and Jarred Items:
All manner of tomato products, diced tomatoes, whole tomatoes, spaghetti sauces, pizza sauce, tomato paste, salsas. I keep a variety of sizes available, too.
Canned beans: black beans, pinto beans, kidney beans, garbanzo beans, whatever bean you can find that you'll eat. It's less expensive to use dried beans, but these are still cheap and will work in a pinch. I'm also fond of already canned baked beans, bean dips. You can doctor them with a little bacon and some brown sugar and they taste like homemade.
Canned fish: tuna, salmon, crab, clams.
Canned fruit and vegetables: stock the ones you like and will use. I have pineapple, applesauce, mandarin oranges, pears, peaches, whole cranberries, cranberry sauce, pumpkin, corn, olives, roasted red peppers, jars of tapenade, mushrooms, artichoke hearts, pesto (tomato and basil), canned chilies, tomatillos, anchovies, capers.
Canned soups and broths, etc.: stock the ones you use. I use a lot of chicken broth (low-sodium has more flavor), beef broth, vegetable broth, and bottled clam juice.
Enchilada sauces (green and red), jars of gravy (great for extending what you made)
Canned milk: sweetened condensed, evaporated—all work great in baking.
Condiments:
Ketchup, mustards (yellow, Dijon, whole grain), pickles (dill and sweet), relish, mayonnaise, A-1, Worcestershire sauce, Tabasco, stir fry sauces, soy sauce (low-sodium, if you can find), teriyaki sauce, horseradish, cocktail sauce,  Once opened, store in the fridge (except soy sauce).
Oils and Vinegars:
Vegetable oils of choice (I like cold-pressed grapeseed oil & coconut oil for high-temperature cooking), olive oil, sesame oil for stir fry. All oil will go rancid staying out. After it is opened it has to go in the fridge, except olive oil.
White and red wine vinegar, apple cider vinegar, and balsamic vinegars.
Nut Butters and Jelly:
Peanut butter (crunchy or creamy), almond and cashew butters, jelly, jam and fruit spread or conserve, honey. My peanut butter needs to be refrigerated after opening–that's the kind you want to buy.
Herbs and Spices:
To keep the price down on these spices, go to a dollar store or Wal-Mart to stock up as much as possible. You can also go to a health food store and buy everything you need from the bulk jars. This is the best place get quality spices and be frugal at the same time, believe it or not. I've bought the freshest spices at the health food store for thirty-five cents each.
Basil, thyme, marjoram, rosemary, dill, garlic powder, onion powder, cayenne, red pepper flakes, cumin, chili powder, paprika, oregano, ginger, dried mustard cinnamon, peppercorns for the peppermill, nutmeg and curry powder are in my spice cabinet because I USE all of them. I also use sea salt and kosher salt and have both of those in my spice cabinet. Only buy what you use.
Baking Center:
Sugar (white, brown, powdered), flour (white, whole wheat, other), cornmeal, pancake mix, baking powder (should be kept in fridge after opening), baking soda, salt, cornstarch, baking chocolate, cocoa, vanilla, chocolate chips, nuts, baking mixes (cake, brownie, etc.)
Pasta and Rice and Grains:
Lasagna noodles, spaghetti noodles, ziti, rotini, fusilli, fettuccine, linguine… only what you use. Boxed macaroni and cheese (try the natural white cheddar kinds).
Rice—I much prefer brown, but get what you'll use. I've also got basmati, wild rice, and some blends and mixes.
Oats, split peas, dried beans (white beans, navy beans, black beans, pinto beans), lentils, barley, couscous, quinoa.
Breads and Cereals:
Whatever you use. Bread should go in the freezer if it doesn't get used up right away. Tortillas should be stored in the fridge—I prefer whole wheat (without transfats) tortillas for burritos and corn tortillas for tacos and fajitas.
Potatoes and Onions:
Russets, Red Rose potatoes, sweet potatoes, butternut squash (or other whole squash in season, except summer squashes which need refrigeration) brown onions, red onions. Keep potatoes away from the light or they turn green. Also, don't store potatoes next to apples. Apples give off a gas that causes potatoes to sprout.
Miscellaneous Pantry Items:
Coffee, assorted teas, hot cocoa, etc.
Here is a great pantry meal that will take you as long to make as it takes the pasta to cook!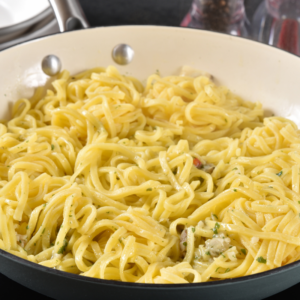 Linguini with Clam Sauce
Ingredients
1

pound

linguini

uncooked

3

6-oz. cans

minced clams

undrained

1

14.5-oz. can

low sodium chicken broth

1/4

cup

butter

2

cloves

garlic

pressed

2

tablespoons

flour

1/2

cup

clam juice

1/8

teaspoon

dried thyme

dash

Tabasco sauce

1/4

cup

fresh parsley

chopped

1

tablespoon

lemon juice

Sea salt and freshly ground black pepper

to taste
Instructions
Prepare pasta according to package directions. Drain. While pasta is cooking, drain the juice from the canned clams into 2 cup measure then add enough chicken broth to make 2 cups liquid. In skillet, melt butter over medium-high heat and sauté the pressed garlic. Stir in flour. Cook on low for about 1 minute, stirring constantly. Gradually stir in clam/chicken broth liquid, clam juice, thyme and Tabasco sauce. Bring to a boil and simmer 1 to 2 minutes. Stir in clams, parsley and lemon juice and heat through. Add salt and pepper to taste. Serve over hot linguini.