Health benefits: Vitamin C, pectin, magnesium, limonene.
What to look for: Lemon peels should be bright yellow and glossy, without a hint of green. The fruit should be firm, plump, and heavy for its size.
Here's Today's TRICK:
If you take a room-temperature lemon, roll it under your palm to kind of squish it up, you'll get the maximum juice out of it before squeezing it.
And here's a TIP:
If you have a recipe that calls for lemon juice, go ahead and zest the lemon first (get the rind off with a zester tool). Or visa versa… if you have a recipe that calls for lemon zest, but not the juice, go ahead and juice it. Freeze either the zest or the juice. The next time you have a recipe calling for either, you've got it already in the freezer!
And Your RECIPE: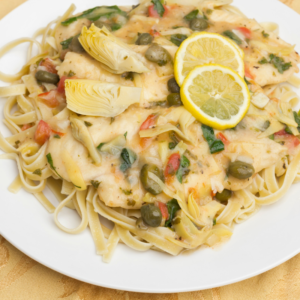 Lemon Chicken Piccata
Ingredients
4

6-oz.

boneless, skinless chicken breast halves

flattened to about 1/4-inch (use a plastic bag and rolling pin)

Sea salt and freshly ground black pepper

1/3

cup

flour

2

teaspoons

finely grated lemon zest

1/2

teaspoon

paprika

2

cloves

garlic

pressed

1

tablespoon

olive oil

1/4

cup

fresh lemon juice

1/2

cup

dry white wine

or use additional broth

1/2

cup

low sodium chicken broth

1

14-oz. can

artichoke hearts

quartered or use equivalent frozen artichoke hearts
Instructions
In a skillet, heat olive oil over medium high heat. Season flattened chicken with salt and black pepper. In a shallow dish (or dinner plate), combine flour, lemon zest and paprika. Mix well. Add chicken and turn to coat. Remove chicken from flour mixture and shake off excess flour.

To the hot oil, add the garlic. Add chicken and saute 2 minutes per side, until golden brown. Add lemon juice, wine and chicken broth and bring to a simmer. Simmer 5 minutes, until chicken is cooked through and sauce thickens. Add artichokes and simmer 1 minute to heat through, then serve.