Fiber is essential to healthy eating, especially if you remember the other corresponding component to filling up with fiber—water. Think for a moment about your garbage disposal. In order to get it flushed out, you must run the water before flicking the switch. This is how you get things moving and cleaned out. Your own personal waste disposal isn't much different. Believe me– you need both parts of this equation to make things work: fiber and water.
To bulk up the diet with more dietary fiber, it's important to recognize that fiber is much more than just oat bran or whole wheat bread. There are two types of fiber: soluble and insoluble fiber. Essentially that means that one is soluble in water and the other is not. Fact is we need BOTH in order to function optimally.
Soluble fiber sources includes apples, oranges, oatmeal, barley, dried beans and carrots. Insoluble fiber comes from bran, brown rice, popcorn, fruit and vegetable skins, and whole grains. Rather than obsess over which fiber is contained in which food, just keep in mind that having a well-balanced diet with an assortment of fruits, vegetables and whole grains will help you get what you need fiber-wise.
The typical American diet contains about 7-8 grams of fiber and yet the National Cancer Institute recommends 20-35 grams of fiber daily! For most people, a part of the solution can be as simple as changing out the white stuff for the brown stuff: out with the white bread, white rice and white flour and in with the whole wheat bread, brown rice and whole wheat flour. Adding a couple of grams of fiber here and there, do make a difference.
Developing good dietary habits in your children by including more fiber in the diet will payoff for a lifetime. Believe it or not, your little ones will start to prefer brown rice and brown bread—more flavor!
Here are a few recipes to get you started filling your family's fiber requirements–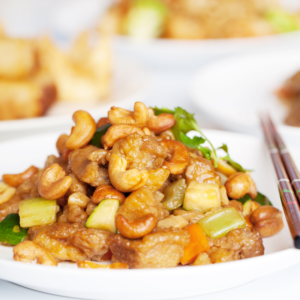 Cashew Chicken
Ingredients
2

boneless skinless chicken breast halves

cut into 1-inch strips

1/4

cup

orange juice

1/8

cup

honey

1/8

cup

soy sauce

1/2

tablespoon

cornstarch

1/2

teaspoon

ground ginger

1/2

teaspoon

garlic powder

1/4

teaspoon

pepper

1

tablespoon

vegetable oil

2

green onions

chopped

1

large

carrot

sliced

1/2

stalk

celery

sliced

1/2

cup

cashews

3

cups

brown rice

cooked
Instructions
In a bowl, combine juice, soy sauce, honey, cornstarch and seasonings.

In a wok or large skillet, heat 1 tablespoon oil until it begins to smoke. Stir-fry vegetables for several minutes until the onions become fragrant. Set aside.

Remove from skillet and heat another tablespoon of oil until smoking and stir-fry chicken strips until browned and tender.

Add cooked vegetables, cashews and sauce mixture. Continue cooking until sauce bubbles and thickens. Serve atop a one-cup serving of brown rice
How about a salad for lunch?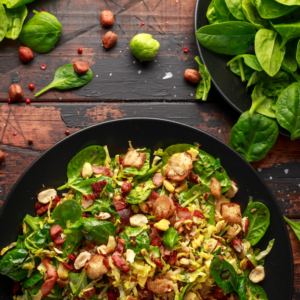 Spinach Salad with Hazelnuts
Ingredients
DRESSING:
2

tablespoons

olive oil

Juice of 1 lemon

1

tablespoon

Dijon mustard

1/4

teaspoon

fresh ground pepper

2

teaspoons

honey

1

teaspoon

Worcestershire sauce

1/2

teaspoon

salt
SALAD:
1

pound

fresh spinach

1/4

pound

fresh mushrooms

4

slices

turkey bacon

cooked crisp and diced

1/3

cup

roasted and chopped hazelnuts
Instructions
Combine dressing ingredients in small bowl. Mix well and set aside. Wash spinach and tear into small pieces. Combine mushrooms with spinach in salad bowl. Toss with turkey bacon and chopped hazelnuts. Add dressing and mix well.
And one more…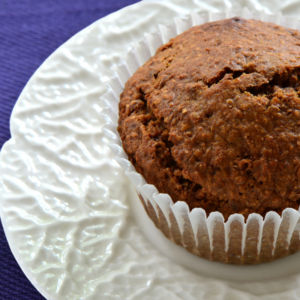 Bodacious Bran Muffins
Ingredients
1 1/4

cups

whole wheat pastry flour

available in health food stores; makes a nicer muffin than regular whole wheat flour

1/2

cup

oatmeal

1

cup

oat bran

1/2

cup

brown sugar

1

teaspoon

baking powder

1

teaspoon

baking soda

3/4

teaspoon

ground cinnamon

1/8

teaspoon

ground cloves

2

slightly beaten eggs

2/3

cup

skim milk

1/2

cup

raisins

1/4

cup

oil
Instructions
Spray muffin pan with vegetable cooking spray or line with paper baking cups. Stir together all dry ingredients. Combine eggs, milk and oil. Add egg mixture to flour mixture; stir until moistened. Fold in raisins. Fill muffin pan 2/3 full. Bake in a 400 degree oven for 15-20 minutes.