With the end of November comes the end of pumpkin season. You know what that means–we need to make the most out of this year's harvest because you just can't find a good pumpkin any other season!
Why not challenge yourself to see how many ways you can enjoy pumpkin this week?
Let me give you a few ideas to start with:
Appetizer: Pumpkin soup, anyone?  For bonus points, serve the soup in half of a hollowed-out, roasted squash. How pretty would soup in a squash bowl be on the Thanksgiving table this year?
Main: Make dinner in a pumpkin! First, cut off the top of the pumpkin and hollow it out as if you were making a jack-o-lantern. Sauté some diced onions until they're soft, and then brown some meat in the same pan. Stir in some sliced mushrooms; coconut aminos; leftover rice, cauli-rice, or quinoa; water chestnuts; diced tomatoes . . . get creative! When everything in the pan is nice and hot, spoon the mixture into the hollow pumpkin. Put the stuffed pumpkin on a baking sheet and put its hat back on it. Bake in a 350-degree oven for an hour or so. At serving time, put the pumpkin on a serving plate and scoop out servings. The roasted pumpkin counts as your vegetable for this innovative one-pot dish!
Side Dish: Make miniature, single-serving stuffed pumpkins using a similar recipe as above, but use smaller pie pumpkins and serve one to each dinner guest. These would make perfect side dishes for your Thanksgiving Dinner.
Dessert: There are so many ways to use pumpkin in desserts. I've shared a recipe for pumpkin cheesecake on my YouTube channel, and it is one of our family favorites. But you can find recipes for everything from pumpkin bread pudding to pumpkin donuts if you search Google for five minutes!
Smoothies: I have a great pumpkin smoothie recipe below!
So, get creative in that kitchen with those fresh pumpkins in savory and sweet dishes! Pumpkin smoothies, pumpkin pancakes, pumpkin brownies…
Here's that recipe for pumpkin smoothie: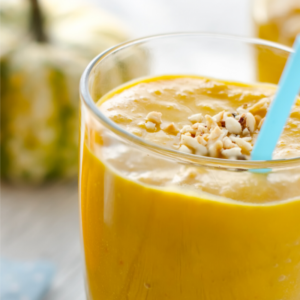 Pumpkin Spice Smoothie
Instructions
In a blender, place all ingredients; blend until smooth and enjoy!
Notes
It's ok to add a tad more nut milk of your choice, if a thinner smoothie is preferred.
———————————————-
PS–Did you know we offer bulk-buy discounts on our supplements?  Click here to stock up on Perfect Paleo Protein, Just Juiced Veggies, and FiberMender!