A lot of you know I have a foodie pet peeve that drives me nuts. That would be Iceberg lettuce. Honestly, I have no idea why this lettuce exists in the first place. It's 97% water, completely bereft nutritionally, and licking an envelope is more flavorful than this sad sack of salad.
The antidote to lackluster salad is exchanging the bad stuff for the good stuff. And while it's always best to buy heads of fresh lettuce, I sometimes fudge and get the ready-to-go stuff. I have found that if you're careful and selective, you can get fabulous, already washed, and ready-to-go lettuces in a wide assortment of flavors, types, and styles. You can mix, match and pair these lettuces with already shredded carrots, cabbage, and whatever else you find in the produce department willing to go home with you. Add a generous sprinkling of crumbled feta cheese, some pine nuts, and a splash of olive oil, fresh pepper, and a touch of balsamic vinegar, and you have a cover girl of a salad that took all of three minutes to slap together.
Just keep in mind that salad should never take more time to prepare than the meal when it is served on the side. When it's the main course, well, that's different.
Here's a main course salad that everyone will love.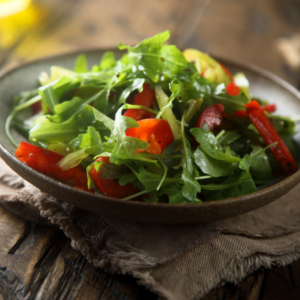 Layered Summer Salad (can be served anytime!)
Ingredients
SALAD:
6

cups

romaine lettuce

chopped coarsely

1

cup

celery

chopped

1

cup

red bell pepper

deribbed, seeded and chopped

1

cup

green onions

chopped

2

cups

mushrooms

sliced

2

cups

frozen petite peas

thawed

2

hard boiled eggs

peeled and chopped
DRESSING:
2

cups

low fat mayonnaise

2

tablespoons

brown sugar

1/2

teaspoon

garlic powder

1/2

teaspoon

curry powder
GARNISH:
2

tablespoons

turkey bacon

cooked and chopped fine

1/2

cup

low-fat cheddar cheese

grated
Instructions
In a large bowl, layer half the lettuce on the bottom of the bowl.

Next, using all of the following ingredients, do a layer of celery, bell pepper, green onions, mushrooms, peas and egg. Top with the remaining lettuce.

Make the dressing by whisking together mayo, brown sugar, garlic powder and curry. Spread evenly over the top of the lettuce. Top with garnish—bacon and cheese. Refrigerate till ready to serve.
What is your favorite salad that can be enjoyed all year long?
PS–You can receive delicious menus (complete with shopping lists!) like this delivered right to your email inbox by subscribing to Dinner Answers today!