Hands up if you have a head of cabbage in your refrigerator! Not only is this beautiful green cruciferous vegetable inexpensive, readily available, and delicious, but cabbage is also an incredibly nutritious food. Since cabbage can thrive in cooler temperatures, it's still available fresh throughout the fall and into the winter in most parts of North America. (Cabbage can be stored for months between freezing and 45 degrees Fahrenheit.) That's why we're talking cabbage for today's Tip, Trick and Recipe article.
All cruciferous vegetables are nutritious and the more you get in, the better. When you eat a diet high in these sulfur-rich vegetables, you're lowering your chances of developing stomach cancer, bladder cancer, lung cancer, and colon cancer.
Cabbage is high in vitamin C, fiber, folate, manganese, and omega 3 fatty acids.
In an earlier article about nitrates, we wrote that eating vitamin C with foods containing nitrates helps to inhibit the conversion of those nitrates to toxic nitrates. So if you're serving sausages or hotdogs that aren't nitrate-free, at least serve them with a big side of coleslaw.
Now for today's TRICK:
Cabbage can be a bit tricky to cut. To make the job easier, cut the head of cabbage in quarters before cutting up to use.
Our TIP:
Instead of buying pre-shredded cabbage, buy a whole head of cabbage and chop it yourself to add in stir-fries, soups, and salads. As soon as cabbage is shredded, it begins to lose its vitamin C.
And our RECIPE: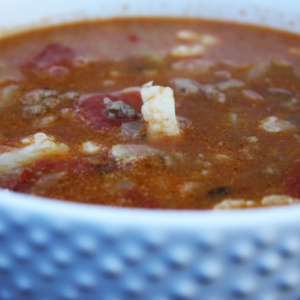 Creamy Southwest Beef Soup
Ingredients
1

pound

ground beef

1

large

onion

chopped

2

cloves

garlic

minced

1

cup

chopped cabbage

2

cups

cauliflower florets

2

14-oz cans

fire roasted tomatoes

Sea salt and freshly ground black pepper

to taste

2

cups

full fat unsweetened coconut milk

3

cups

low sodium beef broth

1

tablespoon

ground cumin
Instructions
In a large pot over medium heat, add the beef, onion and garlic. Cook for 5 minutes, until brown.

To the pot, add the remaining ingredients (cabbage through cumin), cover and reduce heat to low. Cook for 20 to 30 minutes, until beef is cooked through and vegetables are tender. Serve warm.
——————————-
Check out Dinner Answers today for MORE delicious recipes to support your health!