Healthy Foods
Taking Time for You + Christmas Morning Strata
by Leanne Ely, CNC
Have the holidays taken their toll on your stress level? Let's fix that, shall we? Here are some suggestions to help you cope!
Just say no – Remember you can't do it all. It's ok if you didn't send out cards this year or if you have to had to miss a party or two. Choose how and where you spend your time carefully so you'll be refreshed and able to enjoy the things you do choose to do.
Family time – Sometimes we get so busy doing things for others that we forget about those that are most important. Be sure and spend a few quiet moments sitting back and enjoying the giggles and excitement of your children, grandchildren, nieces, nephews, spouse, parents, or other people you hold dear. Enjoy the moment and savor those memories.
Avoid the negative – It's easy to feel like you haven't done enough. Forget about it! Don't compare what you've received or what you've given with others. Falling short of your own expectations can really sap your energy and throw you into a downward spiral emotionally. Let it go. You've done a great job!
Me time – Be sure and include some time for you in your busy schedule. Get a pedicure, take a bubble bath, read your favorite Christmas story, listen to uplifting music, burn your favorite candles, take a drive with loved ones to look at Christmas lights, attend church services… the list is endless. Just do something YOU enjoy doing.
I hope this holiday season is one you treasure forever. Here's one more helpful time saver so you can enjoy Christmas day. It's my famous Christmas Morning Strata recipe. You can prepare it today and refrigerate it for tomorrow morning. It works great for New Years morning as well. Enjoy…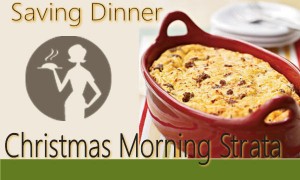 Christmas Morning Strata
Serves 6-8
1 loaf French bread, cubed (either by hand or with a knife)
2 packages frozen chopped spinach, thawed and squeezed dry
3/4 pound Provolone cheese, chopped
14 large eggs
2 1/2 cups milk
salt and pepper to taste
2 teaspoons dry mustard (optional, but adds a nice little bite)
3/4 pound cheddar cheese, shredded
Grease a 9-x-13-inch baking dish. Make a single layer of bread cubes in the bottom of the baking dish. Cover the bread evenly with the spinach. Then add the chopped Provolone cheese. Top with another layer of bread cubes. In a medium-size mixing bowl, whisk together the eggs, milk and seasonings. Pour over the layers evenly, making sure that all of the top layer of bread is moistened. At this point, you have two options: refrigerate it overnight or bake for 1 hour (350 degree preheated oven).
When you bake it, watch it starting after about 50 minutes. It shouldn't be ready to pull until its puffed up a bit and just starting to get golden brown (you don't want it too brown).
If you want to test it, a knife inserted in the center should come out clean. While it is cooling, top with the cheddar cheese and allow it to melt by itself. You might need to return it for just a minute to the oven to finish melting.
Serving Suggestions: Enjoy with tangerines.