Chives belong to the allium family, making them close relatives to scallions, onions, leeks, and garlic. Chives have a mild oniony flavor with a slight hint of garlic, and a little goes a very long way.
There are some great nutritional benefits to chives. They have antioxidant properties, can aid in digestion and they contain a ton of nutrients including beta carotene, folic acid, Vitamin K, B vitamins, calcium, potassium, iron, and magnesium.
You can find chives easily at almost any grocery store, but they honestly are one of the easiest things to grow. Chives are among the first green things to pop up out of the garden in the spring and when they do, I use them as much as I possibly can and I suggest you do too!
Now for your Trick:
Chop some fresh chives into stews, pasta, salads or soups for a zippy taste and a little boost of green nutrition.
Your Tip:
The pretty pink flowers of the chive plant are edible too! What a pretty addition to a green salad!
And your Chives Recipe: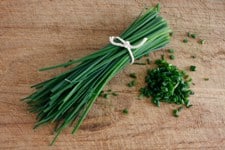 Chilled Vegetable and Steak Salad
Ingredients
1

medium green bell pepper

de-seeded, de-ribbed and chopped

1

medium onion

chopped

3

medium stalks celery

chopped

1

cup

cut green beans

1

cup

frozen sweet green peas

1/2

cup

coconut oil

melted, divided

1

cup

raw honey

3/4

cup

cider vinegar

1/2

teaspoon

sea salt

1/4

teaspoon

freshly ground black pepper

1

pound

beef filet mignon

grilled and sliced

1/4

cup

chopped flat leaf parsley

1/4

cup

chopped chives
Instructions
Preheat oven to 400 degrees.

On a sheet pan lined with parchment paper, spread bell pepper, onion, celery, green beans, and peas; drizzle with half of the melted coconut oil then roast for 15 minutes or until tender.

Remove veggies from oven; set aside to cool then place them in a large bowl.

In a medium bowl, whisk together honey, vinegar and remaining melted coconut oil; pour dressing over roasted vegetables then season with salt and pepper; toss well to combine.

Refrigerate salad for at least 1 hour.

Serve salad topped with grilled steak slices and garnished with parsley and chives.
Looking for more delicious recipes like this one? Check out our Dinner Answers program today!