It's very hard to beat a simple backyard bbq. If you have a birthday in your family this summer, why not host a bbq party? The following fail-proof plan walks you through the steps you need, so you can elevate an ordinary cookout into an event to remember.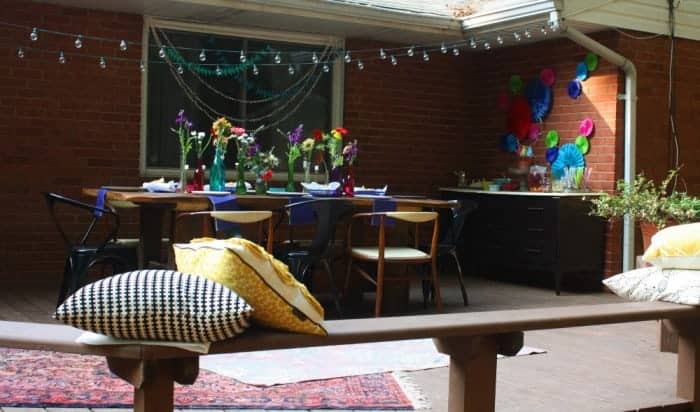 Color scheme. This will set the tone (pun intended!) for your invitations, decorations, and maybe even your menu. We recommend going with a summery gemstone color scheme. Think emerald green and amethyst purple!
Lighting. It's amazing what a difference some mood lighting can make for a party! The right patio lanterns can completely transform your backyard into a colorful oasis. Keep it simple, but keep it pretty.
Sangria. This should really go without saying because summer and sangria were made for each other. Select your ingredients, and have a sangria bar! You'll need 2 diced mangoes, 1 1/2 cups of mixed, fresh berries, 1 cup triple sec, and 2 bottles of pinot grigio. Mix the wine and triple sec, and allow your guests to add whichever fruits they like to their glass. For a non-alcoholic refreshment, have some flavored water available for guests as well.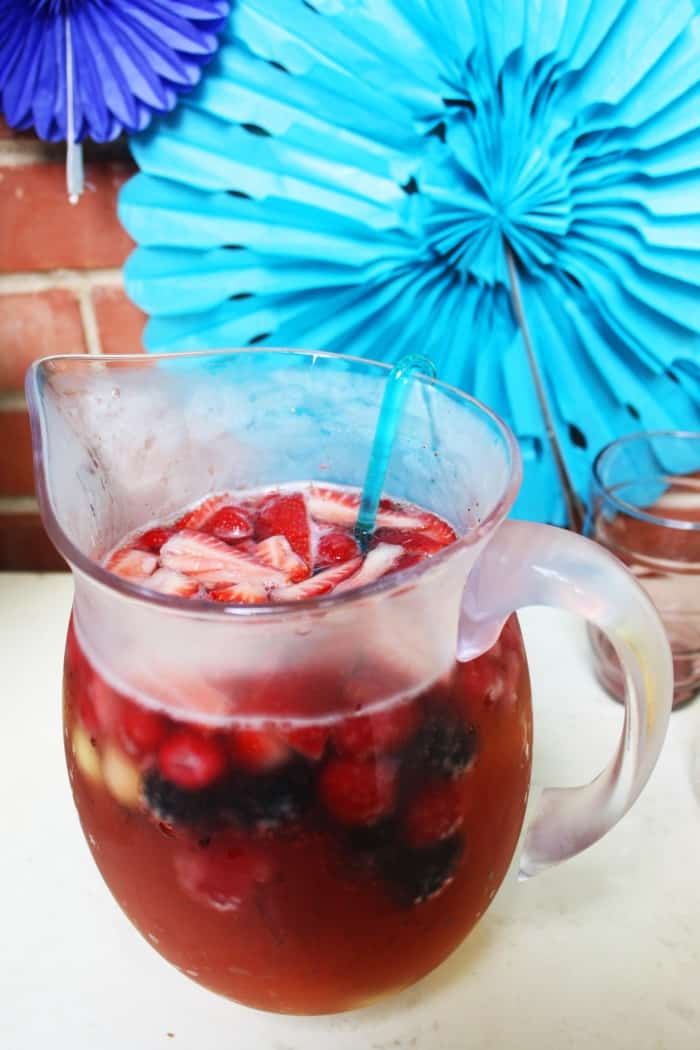 Tacos. Switch things up with the backyard cookout by serving up tacos! We've included a recipe for Pulled Chicken Verde below. Let your guests top their own tacos from the ingredients we've suggested.
Decorate. It should be fun and festive so go with simple, cheap paper products. Get some pretty paper straws, some DIY paper garland . . .  use your imagination.
Bohemian. Vibrant bohemian cushions and layered rugs add a sweet touch to a backyard party.
Crown the star. Fashion a sweet flower crown for the birthday girl (or the birthday boy if he's into flower crowns). Most of us girls love adorning ourselves with flowers and crowns!
Invites. We like using Paperless Post to invite our guests to our event, even when it's a backyard bbq. You can never have too much class! Paperless Post has a ton of options for you to choose from, and you can go as fancy or plain as you like. We love that there are both paperless and paper options.
Music. You must have music playing during a party. For a backyard bbq, a nice folksy acoustic selection would be a nice background. Just check out Spotify for a bbq playlist and you'll be golden. Or if you happen to know any minstrels who would serenade your guests, that would be an excellent option 😉
Entertain. Just because the party is in the backyard doesn't mean you can ignore your guests when they arrive. Be sure to meet people as they come, and make any necessary introductions. Offer guests a beverage and invite them to relax and enjoy themselves.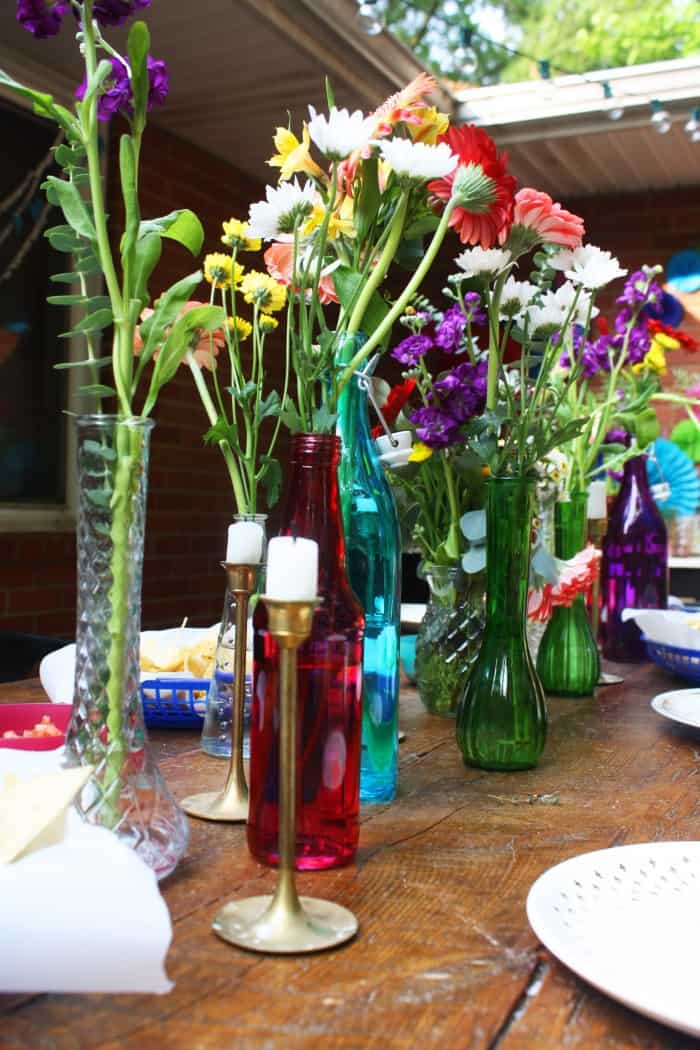 Buffet table. I love adding some visual interest to the buffet table. Add a couple of bouquets of wildflowers for some color. Try placing some of your bar items at different heights rather than having everything sitting flat on the table. For instance, use a cake stand for some of your taco toppings. Having foods at different levels makes for a beautiful display and it also makes it a bit easier for guests to reach around each other.
Seating. Don't forget to give some thought to where everyone is going to sit. Will you have enough of those throw pillows for guests to sit on? Or should you borrow a couple of picnic tables for a festive, casual atmosphere?
Place settings. For your backyard bbq, no need to set a formal table, but I always recommend a simple table cloth, placemats, and a cloth napkin with utensils rolled inside of it for each guest.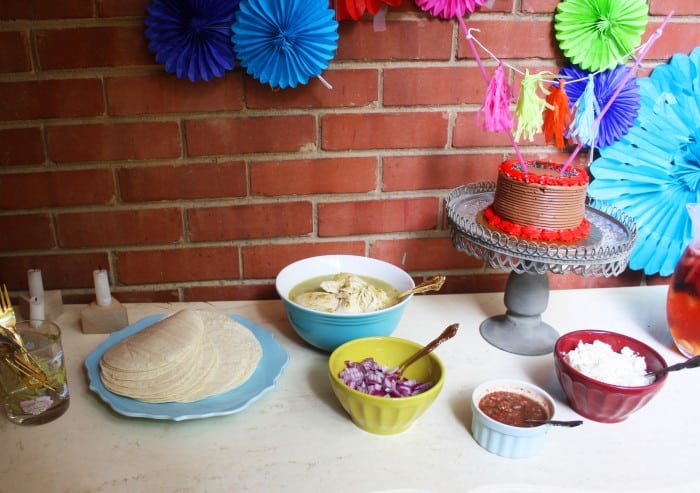 Taco bar: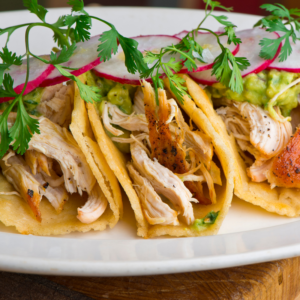 Pulled Chicken Verde
Ingredients
2

pounds

boneless skinless chicken thighs

Sea salt and freshly ground black pepper

to taste

1

16-oz. jar

salsa verde

1

teaspoon

garlic powder

1

teaspoon

chopped fresh oregano

1

teaspoon

ground cumin

1/4

cup

chopped fresh cilantro
Instructions
In a crock cooker, place the first six ingredients (chicken through the cumin) and cover with a lid.  Cook the chicken on LOW for 4-6 hours, or until the chicken is cooked through and easily shreds with 2 forks.

Serve the chicken with the fresh cilantro.
Notes
Taco bar fixin's:
Pico de Gallo
Guacamole
Corn Tortillas
Queso fresco/cheese
Lime wedges
Cilantro
Onion
Sliced radishes
Sour cream
There you have it! The most perfect backyard bbq birthday party you ever did see!
Want more delicious recipes worthy of entertaining your guests? Subscribe to Dinner Answers today!