Everything is just coming into season—luscious peaches, plums, berries, and melons. Not only are they in season, but they're also the least expensive right now—especially if you're lucky enough to happen upon a little produce stand or someone selling melons in the back of a truck. In the more rural South, it's not unusual to find little produce stands set up in people's front yards, selling the bounty from their gardens and fruit trees.
And while I hate to turn on the oven this time of year, I'll make an exception for making a cobbler or a crisp. Peach or berry cobbler is one of those things that everyone should experience in the middle of a hot summer. Preferably with a big scoop of homemade vanilla ice cream…does it get any better than that? Yeah, it does, my recipe is with both peaches and berries and is a combo cobbler/crisp!
I know what you're thinking…that's not exactly healthy fare! Agreed. Cobbler is not going to be on any of my top ten healthy foods lists anytime soon and no, I won't be giving you a recipe for a healthy version because it's not ever going to be THAT healthy and why mess with a good thing?
We can, however, enjoy a treat every once in a while. It goes back to the rule of eating really healthy 90% of the time and the other 10%, enjoying a splurge such as delicious homemade cobbler with seasonally ripe fruits in the middle of summer. Ah, life is good! Enjoy this cobbler recipe that's been a favorite of my family for years–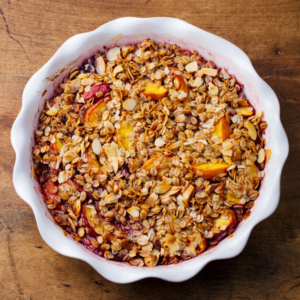 Leanne's Peach Berry Cobbler/Crisp
Ingredients
1/2

cup

flour

1/2

cup

uncooked old fashioned oatmeal

1/2

cup

brown sugar

1 1/2

teaspoons

baking powder

1/2

cup

milk

1/4

cup

unsalted butter

1/4

cup

white sugar

1

tablespoon

cornstarch

1/2

cup

cold water

3

cups

fresh peaches

peeled and sliced

1

cup

fresh blueberries

or other berries, blueberries hold up best

1

tablespoon

unsalted butter

1

tablespoon

lemon juice

1/4

teaspoon

ground nutmeg

1/4

teaspoon

ground cinnamon
Instructions
Preheat oven to 350 degrees.

In a medium bowl, mix together the first four ingredients. Add the milk and the 1/4 cup of butter, cutting it in and mixing till smooth (although it will be lumpy with the oatmeal).

In a large saucepan over a medium high heat, mix together the white sugar, cornstarch and water. Add the peaches first and cook till bubbly, about 5 minutes. Add the blueberries and cook another 5 minutes. Add the 1 tablespoon of butter and the lemon juice. Now add the nutmeg and cinnamon. Mix well until butter is melted. Remove from heat.

Pour fruit mixture into an ungreased 1 1/2 quart baking dish. Spoon the batter over the top of the fruit and place in the middle of the oven and bake for about 30 minutes or until the crust is brown and cooked all the way through. Once cooked, allow to cool for about 15 minutes before serving—enjoy!
PS–You can receive delicious menus (complete with shopping lists!) like this delivered right to your email inbox by subscribing to Dinner Answers today!