I had the pleasure of seeing a real-life cattle drive in Fort Worth, Texas not too long ago. Longhorns ambling down the road with a cowboy on his horse whooping at the cows to keep them off the sidewalks (and off the people, LOL)
I do think it appropriate to partake of cowboy chow while in Texas so let's belly up the table and eat like a cowboy. 😉 Here's something that will satisfy the cowboy hunger in all of us, your family included!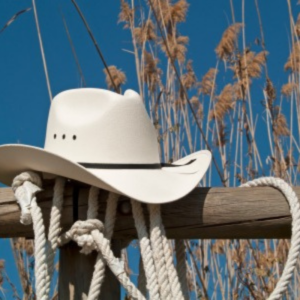 Cowboy Casserole
Ingredients
2

pounds

extra lean ground beef

1

large

onion

chopped

1

large

green bell pepper

seeded, deribbed and chopped

2

cloves

garlic

pressed

1

10-oz. can

enchilada sauce

1

8-oz. can

tomato sauce

1

6.5-oz.can

sliced black olives

drained

2

tablespoons

chili powder

Salt and pepper

to taste

1

teaspoon

oregano

1/2

teaspoon

cumin

2

cups

water

1

cup

cornmeal mix

1

cup

low fat Cheddar cheese

shredded
Instructions
In a large skillet, cook ground beef together with onions, bell pepper and garlic. Drain off fat and place in slow cooker.

In a mixing bowl, combine enchilada sauce, tomato sauce, olives, chili powder, salt, pepper, oregano and cumin. Pour over ground beef.

Cover and cook on low heat setting for about 8 hours.

30 minutes before you are ready to serve, bring water to a boil. Add cornmeal mix and return to a boil. Lower heat to a simmer and continue to stir for another minute or so.

Drop cornmeal batter by the spoonful into the slow cooker. Raise slow cooker heat setting to high; cover and cook for another 15 to 20 minutes, or until corn dumplings are done.

Sprinkle with cheese and serve.
Notes
SERVING SUGGESTIONS: A big old green salad.
VEGETARIANS: Swap out the beef for TVP crumbles and enjoy!
PS–You can receive delicious menus (complete with shopping lists!) like this delivered right to your email inbox by subscribing to Dinner Answers today!