Most folks assume that whatever is available in the produce section is what's in season. This isn't necessarily the case. Sure, grocery stores offer a wide variety of fruits and veggies year-round, but that doesn't mean the flavor and freshness are there as it is with produce that is at the peak of its season.
 
Spring is upon us, which means we have an abundance of new vegetables to look forward to! Fabulous fresh spring veggies include artichokes, asparagus, fava beans, fennel, avocado, mustard greens, radishes, Vidalia onions, watercress, basil, and tender, sweet lettuces. Lots of good crops to look forward to in this season. Also, local farmer's markets will be starting up shortly bringing locally grown fruits and vegetables to the table! Research your area and see if you can find one by you! Definitely worth it. Check out localharvest.org for a list of places near you.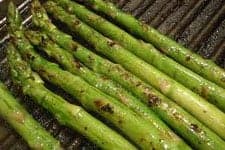 Minted Lemon Asparagus
Ingredients
2 1/2

tablespoons

lemon juice

1

tablespoon

fresh mint

chopped

1

pound

fresh asparagus spears

trimmed

1/4

cup

crumbled feta cheese
Instructions
In a small bowl: mix lemon juice and mint – set aside.

Bring a large pot of water to a boil. Add asparagus to pot of boiling water for about 45 seconds, then remove and place in a bowl of ice water to stop the cooking process. Drain asparagus and place on a serving plate. Drizzle with lemon mixture and sprinkle cheese over the top then serve!