Hazelnuts are delicious and nutritious, high in B and E vitamins, fiber, magnesium, and antioxidants. Full of healthy fats, low in saturated fats, containing both mono and polyunsaturated fats – you're getting a whole host of heart-healthy tastiness in this one little hazelnut!
Hazelnuts can be eaten raw or roasted, used in sweet or savory dishes with zero sodium…who knew?
Here's Today's TRICK:
To skin a hazelnut, roast shelled nuts in the oven at 350 degrees for 10 minutes. Cool. Then use two dry towels, one for each hand, to rub the skins off the nuts. You can do this without roasting too, but roasting makes it a whole lot easier!
Here's a TIP:
Make sure you skin the hazelnut before using because the skin can be bitter and affect the taste of anything you are cooking, or using, the nuts with.
And your RECIPE: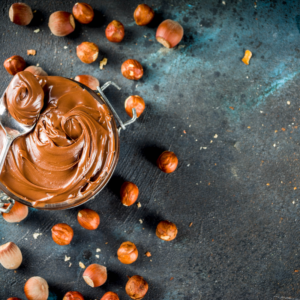 Easy Hazelnut Spread
Ingredients
1

cup

shelled & skinned hazelnuts

2

tablespoons

honey*

1

teaspoon

vanilla*

1/2

cup

water
Instructions
Using a high speed blender, pour the water and nuts into the blender, let soak for about 1 hour. Blend until buttery, add honey and vanilla, blend again. Serve on celery stalks or apple slices.
Notes
*Optional ingredients. Variations: use milk instead of water, add 2 tablespoons cocoa powder to make your own version of Nutella!