Sure you can get a sugar fix and an energy boost from a candy bar, but if you're trying to lead a healthier lifestyle, perhaps going for a date might be a better idea.
No, not that kind of date. The fruit!
Dates grow on palm trees (date palms to be exact) and they've been enjoyed by folks in the Middle East for the past, oh, 8000 odd years-since roughly 6000 BC.
Dates can be enjoyed fresh or dried. You'll find them classified according to the amount of moisture in their flesh. There are soft dates, semi-dry dates and dry dates.

The date I most often enjoy is a soft one – the medjool date-one of the most common varieties and surely the most prized. If you can find them pitted, bonus, but it's fairly simple to remove the pit on your own, so if you can't find them pitted, don't despair.
Medjool dates are large and sweet and the flesh of the fruit almost melts in your mouth. And they are oh-so-sweet!
The average medjool date contains only 66 calories and lots of potassium, fiber, copper, magnesium and manganese. All varieties of dates have plenty of natural sugars so eat them sparingly, but a date may be just the thing to cure your sweet tooth.
As a crowd-pleasing appetizer, try stuffing dates with goat cheese and wrapping them in bacon. Dice them and add them to cereal. Slice them into a salad. Or just snack on them out of the container when you're craving something sweet.
Fresh dates are a little harder to come by than dried dates. If you happen to come across these little wonders, they'll likely be yellow or reddish in color. They will be attached to a short branch and they will have the consistency of an apple. If you eat a date just like this, it will be crunchy and slightly sweet. But if you let it ripen until it becomes soft and dark, it will be like biting into honey.
Now that we're all sitting here with our mouths watering…
It's time for your Trick:
Dip a pair of kitchen shears in hot water before cutting your dates.
Your Tip:
Ripen fresh dates by leaving them alone on the counter for a few days. When they're soft to the touch and they are no longer yellow, you can eat them. Store them in the fridge to slow down any further ripening.
And your Recipe: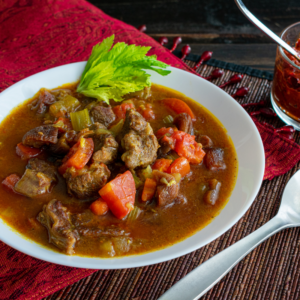 Moroccan-Style Bison Stew
Ingredients
2

tablespoons

coconut oil

1

medium

onion

finely diced

2

teaspoons

ground cumin

2

teaspoons

ground coriander

2

teaspoons

ground ginger

1

tablespoon

smoked paprika

1

teaspoon

turmeric

1

teaspoon

chili powder

2

teaspoons

sea salt

1

teaspoon

freshly ground black pepper

2

pounds

bison stew meat

cut into 1-inch cubes

3

cloves

garlic

pressed

1

28-oz. can

crushed tomatoes

1

teaspoon

cinnamon

2

tablespoons

chopped dates

3

cups

low sodium chicken broth

2

tablespoons

chopped Italian parsley

optional
Instructions
Melt the coconut oil in a large stock pot over medium heat. Add onion and sauté until softened, about 5 minutes. Place cumin through black pepper in a medium bowl and whisk to combine. Place the bison in a zipper-topped plastic bag, and pour the spice blend into the bag, shaking well to coat. Transfer seasoned bison to the stock pot. Increase heat to medium-high, stirring frequently, until bison is browned. Add garlic, stir for a few seconds, then carefully stir in the tomatoes, cinnamon, dates and chicken broth. Bring to a boil, cover, then reduce heat to low and simmer for 1 1/2 hours, stirring occasionally. After 1 1/2 hours, remove cover and allow sauce to reduce until thickened, and bison becomes fork tender, about another half hour. Garnish with fresh Italian parsley, if desired.
In the mood for more delicious recipes? Subscribe to Dinner Answers today!