Fresh dill is one of my very favorite herbs. It just tastes like summer to me. Maybe that goes back to the taste of a dill pickle sliced onto a grilled hamburger!
I love the look of dill's wispy green leaves and its sweet soft taste. I chop dill into salads and dressings and over fish. Dill is delicious in plain yogurt with some chopped cucumber for a summertime dip or chopped into egg salad.
It just so happens that dill has more going for it than taste alone. Dill is also a nutritional powerhouse.
Dill's Nutritional Benefits
Dill is high in Vitamin A, calcium, dietary fiber, magnesium, iron, and manganese. Dill also contains two types of healing components (flavonoids and monoterpenes), which give dill some unique health benefits.
Cancer protection. Dill contains special oils that allow it to neutralize certain types of carcinogens, including those found in charcoal grill smoke, cigarette smoke, and smoke produced by garbage incinerators. For this reason, dill makes a great addition to a marinade for foods you're putting on the grill.
Protection from free radicals. Dill's monoterpene components help to protect the body against damage caused by free radicals–unstable molecules that attack healthy cells in the body.
Antibacterial. Dill is believed to have the ability to prevent the overgrowth of bacteria within the body.
Dill is at its best when it's fresh but fresh dill doesn't have a very good shelf life—it only lasts for a day or two. To get those two days out of it, store dill in the fridge wrapped in a damp paper towel or with its stems in a glass of water.
If you have some dill you need to use up but you have nothing to use it in, freeze it! You can freeze dill chopped or whole. Try chopping dill into an ice cube tray with some stock so you can easily add a flavor boost to a pot of soup.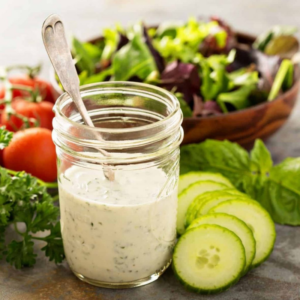 Ranch Dressing Recipe
Ingredients
1

cup

lowfat mayonnaise

1/2

cup

lowfat sour cream or plain greek yogurt

1/2

teaspoon

dried parsley

1/2

teaspoon

dried chives

1/2

teaspoon

dried dill weed

1/4

teaspoon

onion powder

1/4

teaspoon

garlic powder

Sea salt and freshly ground black pepper

to taste
Instructions
Whisk all ingredients together.

Cover with plastic wrap and refrigerate for at least thirty minutes prior to serving.
For tasty salad recipes to use with your homemade dressing, pick up our Bounty of Salads ebook bundle!