Summer is upon us and that means it's the season for eating outside!
Eating in the out of doors is such a romantic notion. But more often than not, the wind comes up and blows your plastic drinkware off the table, a fly lands in the salad, or wasps invade the party. There are also concerns over food safety when it comes to packing a picnic lunch, especially in hot weather.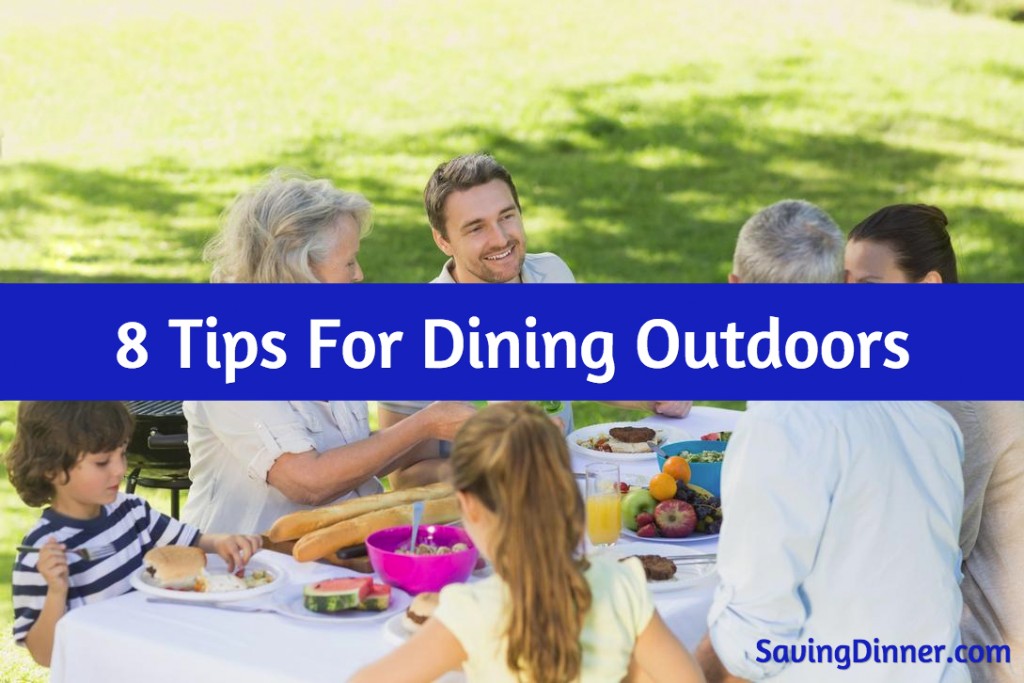 But it is possible to enjoy dining al fresco (really!). Here are some tips to help you dine safely and comfortably in the out of doors:
1. Consider clean-up. Quite often, picnics happen after enjoying the great outdoors for a few hours. Bring along some soapy water in a thermos or container for cleaning hands and eating surfaces.
2. Keep your cool. Pack a well-insulated cooler with lots of ice packs and ice if need be, so that the temperature stays below 40 degrees Fahrenheit. Speaking of keeping things cool, don't put your cooler in the hot trunk. Keep it in the air-conditioned portion of the vehicle. Once outside, place the cooler in the shade.
3. Don't leave food out. If food has been left outside in hot weather(temperatures of more than 90 degrees) for longer than one hour, discard it because it will not be safe to eat.
4. Use serving trays. There's nothing worse than having to deal with multiple food containers, dirty dishes and cups, and various condiments after the picnic is over. Using serving trays will reduce the number of loads you need to carry and will make clean-up much easier.
5. Make some shade. If you can't use an umbrella, try fashioning a shade of some sort out of a sheet and some bamboo poles.
6. Be festive. A vinyl tablecloth can go a long way towards making your outdoor meal something special. Also, use real dishes (if you can) to make it feel more special. It will also be easier to keep the dishes on the table if you don't use plastic! (Real dishes are also more environmentally friendly than disposable ones.)
7. Don't invite the bugs. Use lidded serving wear and keep them closed so that ants and bugs can't join the party. Only put the food on the table (or blanket) right before everyone sits down to eat.
8. Bring a trash can. Who wants to drag uneaten scraps back to the car or into the house? Bring along a trash bag or two so you can discard scraps right from the table.
For yummy recipes to take on your picnic, subscribe to Dinner Answers today!