KITCHEN ODORS. Ewww! Gross, huh? It's a reality though, when you do a lot of cooking, so…
Here's today's TRICK:
Have you ever been in bed, started falling asleep, and keep thinking you smelled onions? Then you realize you do indeed smell them; they're on your hands from chopping onions for dinner that night. You may have washed your hands several times, but that unmistakable odor is still there. Here's a trick to help you get rid of onion (or garlic, for that matter) odor on your hands. Take a stainless steel mixing bowl and rub your hands all over it. Yes, you read that right—stainless steel will remove the odor. You can use anything stainless steel, but I recommend you leave the sharp knives out of this trick! After you've wiped your hands on the stainless, go ahead and give them another hot soapy washing…you should smell nice and fresh now!
And here's a TIP:
I know a lot of people hate cooking fish in the house because of lingering cooking smells. Here's a cheap, natural way to eliminate particularly strong cooking smells. In several small shallow bowls, pour some white vinegar and leave it out all night on your counter. When you wake up in the morning, everything will smell fresh again. Pour the vinegar down your garbage disposal to get rid of any smells there when you're done. I keep a big gallon bottle of white vinegar under my kitchen sink just for this purpose; it works!
And your RECIPE: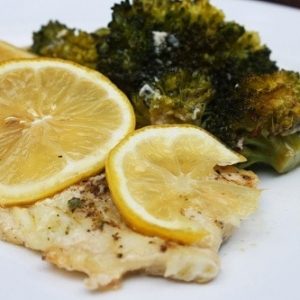 Ginger Honey Glazed Fish Pouches
Ingredients
4

medium

firm fresh white fish filets

2

tablespoons

olive oil

1

tablespoon

grated ginger

2

teaspoons

honey

Sea salt and freshly ground black pepper

to taste

1

large

lemon

sliced

2

tablespoons

chopped chives

2

cups

broccoli florets
Instructions
Preheat oven to 375 degrees.

Place each fish filet on a sheet of aluminum foil. Rub fish with oil, ginger, honey and salt and pepper. Place lemon slices and chives on top of fish filets. Next to each fish filet, Place 1/2 cup broccoli and wrap up each foil piece.

In a large baking dish, place fish pouch and cook for 10 minutes on each side, until fish flakes easily with a fork and vegetables are tender. Serve warm.
PS–You can receive delicious menus (complete with shopping lists!) like this delivered right to your email inbox by subscribing to Dinner Answers today!