There's a lot of talk these days about gluten sensitivity. Celiac disease, a digestive disease that damages the small intestine and interferes with the absorption of nutrients, has become more common in recent years.
And while gluten sensitivity is one thing, celiac is quite another. Grains that are sprouted can often be tolerated by gluten-sensitive folks, while those with celiac just need to stay clear unless, of course, they have the go-ahead from their doctors.
The main difference between a sprouted grain and a non-sprouted grain is its digestibility. Sprouted grains are much easier for the body to digest vs. a regular grain that is not sprouted. Sprouting a grain produces vitamin C, increases beta-carotene and vitamin B content, and helps the body to absorb calcium, zinc, iron, copper, and magnesium. And while our bodies view whole grains as starches, they view sprouted grains as vegetables and have an easier time digesting them and getting more out of them, nutrient-wise, too.
So next time you're perusing the bread aisle and wondering which bread to pick up, you might want to consider Food for Life's bread. The Ezekiel bread is made exclusively with sprouted grains and toasted, it tasted phenomenally rich. The added benefit of eating sprouted grain bread is helpful if you're trying to lose weight. Why? Well, you know that the more veggies you eat the better, and the less starchy stuff you eat, the less you're going to end up wearing it! Your body sees that sprouted wheat bread as veggies, yay!
Here's a simple recipe for my favorite way to have an Ezekiel bread sandwich: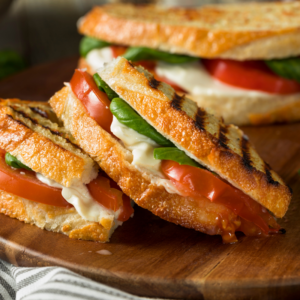 Grilled Basil Tomato Cheese Sandwiches
Ingredients
2

slices

Ezekiel bread

1

teaspoon

whipped unsalted butter

1

ounce

low-fat Provolone cheese

grated

2

slices

tomato

4

leaves

fresh basil
Instructions
Butter one side each of the bread. In a skillet, heat over medium high heat. Place the slices butter side down. Carefully place cheese evenly on both pieces of bread, careful not to get it in the hot pan.

As cheese starts to melt, place tomato and basil on one side of the bread, now squish together, cut on a diagonal and devour…yum!
PS–You can receive delicious menus (complete with shopping lists!) like this delivered right to your email inbox by subscribing to Dinner Answers today!