So many people tell me they can't stand fish. The "fishiness" and the texture just take out any desire to eat it.
And yet we all know how healthy fish is, right? But hey, you're a big girl and you want to try it again? Come now, I'll help you!
The key to getting properly introduced to fish (the right way this time) is making sure you start with a very mild-flavored fish. Firm white fish such as mahi-mahi, sole, halibut, or tilapia are key: the texture is firm and the fish's flavor is mild.
Also, don't get hung up on the whole fresh or frozen aspect of fish. Buy the best thing for your budget. Most of the time I end up with frozen, to be honest!
Lastly, thawing is a breeze if you do it in your sink. You can speed-thaw it in about 20 minutes. Simply fill up your sink with cold water, add the fish (still sealed in its package), and let it thaw while you get other things done for dinner. It will be ready when you need it!
Try this delicious fish recipe and see what I mean!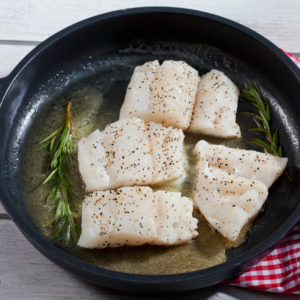 Braised Fish with Artichoke Hearts and Peppers
Ingredients
1

onion

sliced thin

3

tablespoons

olive oil

1

medium

red bell pepper

deribbed, seeded and cut into strips

1

14-oz. can

artichoke hearts

quartered (liquid reserved)

1

teaspoon

paprika

1

teaspoon

thyme

2

tablespoons

chopped fresh parsley

1/2

cup

dry white wine

or use low sodium chicken broth or vegetable broth

6

firm white fish fillets

fresh or frozen

Salt and pepper

to taste

1

tablespoon

whole wheat flour
Instructions
In a large skillet over medium heat, sauté onions in oil till onions are translucent.

Add bell pepper to skillet and continue to cook about another 3 minutes.

Drain the artichokes, being careful to reserve the liquid.

Add artichokes to skillet along with the paprika, thyme and parsley. Stir.

Add wine or broth and 1/2 cup of the artichoke liquid to the skillet.

Lay fish fillets on top of vegetables. Salt and pepper to taste.

Reduce heat, cover and let cook for 7-10 minutes or until fish flakes easily when tested with a fork.

With a large slotted spoon, carefully remove fish and vegetables from pan to a serving dish.

Raise heat to medium high. Whisk in flour to pan juices and stir constantly till sauce is thick and smooth. Pour sauce over fish and veggies. Serve.
PS–You can receive delicious menus (complete with shopping lists!) like this delivered right to your email inbox by subscribing to Dinner Answers today!