I can't tell you how passionately I feel about families sitting down and eating meals together. Nothing is quite as satisfying and fulfilling as preparing a nutritious meal for your loved ones and sitting around the table together to enjoy it as a family unit.
I don't care if it's fruit and yogurt for breakfast or roast chicken for supper, as long as you make an effort to sit down and eat as many meals as you can together. It's a perfect way for everyone to connect with one another, and it provides a feeling of comfort and security for your children.
When my kids were little, eating at the table was not optional. I planned the meals, they would help me prepare dinner and then we would sit down together and eat. I believe that we're as close as we are partly because I made family dinner time a priority in our lives. They knew they could talk about what was going on in their lives anytime, but dinner time was just the natural time to connect. I wouldn't trade those minutes together for anything.
So how do you get everyone around the table together if you haven't made a big deal of it before?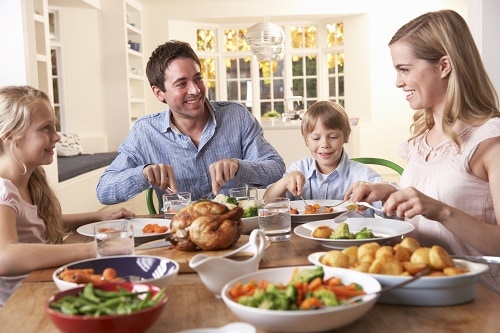 Lay down the law. You're the boss, so make the rule. No meals in front of the TV. Period.
Involve everyone. Giving everyone mealtime chores will give you a hand, and it will make your kids feel more involved in the process, making it more likely that they'll be keen to sit down and eat with you. Start at the grocery store by letting the kids decide which vegetables to buy. Explain the difference between organic foods and conventionally grown foods. Really start to provide your kids with an education about where their food comes from. Then, at home, depending on the ages of your children, you can have them do all kinds of things from washing and/or peeling vegetables to stirring sauces and setting the table. Trust me, they'll be much more anxious to help prep than they will be to clean up, so perhaps you could start there!
Make it fun. It will be easier to get the kids to the table with you if you serve food they like. That's a no-brainer. Give everyone a couple of options for dinner and hold a family vote over what gets served-majority rules! If it's pizza night, let everyone make their own individual pie. Fajita night? Put all the toppings on the table and let everyone have at it. Veggies and roast meat? Instead of putting the food on their plates in the kitchen, bring everything to the table and let them serve themselves. Sounds crazy, but kids are more likely to eat food they put on their plates themselves.
Looking for meal ideas now that you've decided to make dinner time family time? Subscribe to Dinner Answers today and you'll receive a weekly email with yummy recipes!