There is something extremely satisfying about making a big pot of chili for your family on a cool day. I find it as enjoyable to make chili for dinner as I do sitting down and eating that chili. There's just something about putting all those simple ingredients of vegetables and spices together, in a combination you know your family will enjoy, and sitting down and eating it together.
Chili is extremely easy to make and whether you're vegan, celiac, paleo, or an old-fashioned omnivore, you can make a pot of chili to suit your tastes and dietary needs. The only exception would be someone unable to eat nightshade foods because you really can't do traditional chili without tomatoes.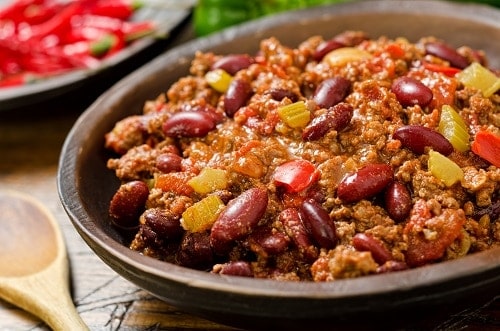 I have added many chili recipes to my cookbooks so I am not going to list out all those separate recipes here, but with chili, once you get the hang of it you can really just experiment and play and make it your own.
Chili – the basics
There are some ingredients that are pretty standard in a pot of chili. To name a few:
Tomatoes
Onions
Garlic
Chili powder
Chili peppers
Bell peppers
Ground meat (pork or beef)
Beans
Make it your own
If you're vegetarian, simply omit the meat and add more veggies. Celery, carrots, and even sweet potatoes are nice in vegetarian chili.
If you're paleo, omit the beans.
If you enjoy beans as part of your diet, toss in a variety. Chickpeas, black beans, and kidney beans are a nice combo for a hearty chili.
Some like it hot
Depending on how much you like heat, it's easy to make chili to please you! Add minced jalapeño, extra chili powder, cayenne, and even hot sauce. For a different flavor profile, try adding coriander, cumin, and saffron!
Toppings
I love adding avocado to my chili when I serve it. Other options would be cheese, a lime wedge, sour cream or plain yogurt to help cool it off.
Want specific chili recipes? Check out our Bounty of Soups ebook bundle – there are 15 chili recipes!