Lamb meat comes from a sheep that is under a year old, whereas "mutton" is sheep older than 2 years old, and any age in between is referred to as "hogget." Lamb is definitely sweeter and more tender than those other older meats.
If you have a hard time with the idea of eating a young sheep, remember that lamb meat isn't coming from those fluffy little baby sheep. A one-year-old lamb is essentially fully grown and when grass-fed, has lived a good happy life. To put this in perspective a bit, many beef cows are slaughtered between one and three years of age.
When you buy your lamb from a local farm, you can speak with the people who raised the meat to be sure of the humane manner in which the animal was raised and brought to market.
You really should make an effort to find a local sheep farmer to buy your lamb from, but lamb is relatively easy to find at meat counters year-round. Not only is lamb a mild, sweet protein, but it's absolutely chock full of minerals and vitamins.
A serving of lamb provides you with more than half of your daily recommended intake of protein along with all kinds of B vitamins, niacin, iron, zinc, and riboflavin.
However, when it comes to selecting and cooking, lamb can be an intimidating meat. In fact, I think one of the reasons why Americans eat so little lamb, compared to beef and pork, is that we're not sure how to cook it.
I'm not sure why lamb is perceived as being so difficult to work with because once you get the hang of it, working with lamb is simple. All you need is a good cut of meat and the right cooking method.
How to select the right cut:
First of all, buy only grass-fed lamb. There is no comparison. From there, the cut you want will depend on your budget and what you're doing with your lamb meat. Let's look more closely at these cuts:
Ground lamb. This is probably the most inexpensive cut of lamb. Generally coming from the breast or shoulder of the animal, ground lamb can be used as you would ground beef or pork.
Loin roast. If you want to impress a small group of dinner guests, go for a loin roast. A good-sized roast of lamb will feed roughly four people.
Leg of lamb. Still impressive, and generally much more meat than a loin roast, a roasted leg of lamb is great for a dinner party.
Rib racks. You won't get a lot off of a roasted rack of lamb, but lamb racks sure are pretty! Be sure to save the bones for your next pot of bone broth!
Lamb shank. You will want to braise this cut. It is one of the toughest cuts of meat you'll get on a lamb, coming from the lower legs of the animal.
Lamb leg steaks. One of my favorite cuts of lamb, lamb leg steaks are full of flavor, are good and meaty, and they're not difficult to cook. Just cook them as you would any steak. For best results, marinate them beforehand, especially if you plan to grill them.
Shoulder chops. Often chewy and fatty, shoulder chops aren't expensive, but they are quite tasty. Lamb chops are best grilled or pan-fried.
Maybe because lamb is traditionally served in the spring, it pairs perfectly with fresh spring vegetables.
Now that we're all salivating…
It's time for your Trick:
If you don't have a local lamb farm to buy your meat from, go to a good meat market and select lamb meat that is pinkish-red with a good amount of marbling. Avoid dark red cuts of lamb which is an indication of older, less tender meat.
Your Tip:
If you purchase your lamb frozen, thaw it in the refrigerator. When it has thawed, it will be safely stored in the refrigerator for up to five days before you cook it.
And your Recipe: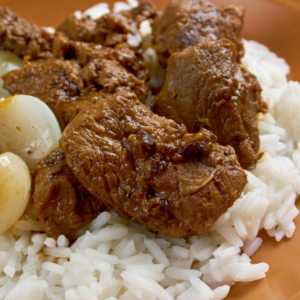 Slow Cooker Lamb Tagine
Ingredients
1/3

teaspoon

olive oil

1

medium

onion

sliced

3/4

pound

lamb meat

cubed

1/4

teaspoon

cumin

1/4

teaspoon

coriander

1/4

teaspoon

ginger

1/4

teaspoon

cinnamon

Salt and pepper

to taste

1/2

cup

water

2

pears

cored and cubed

3

tablespoons

raisins

3

tablespoons

slivered almonds
Instructions
Heat the oil in a skillet over medium-high heat; saute onions and lamb until lamb is browned (don't worry about cooking it through, you just want to brown it on the outside).

Remove skillet from heat and sprinkle lamb with seasonings; transfer to slow cooker and cover with the water. Cover and cook on low heat setting for about 3 hours, or until meat is fork-tender.

Thirty minutes before serving, add pears, raisins and almonds. Raise heat setting to high and continue to cook until pears are soft and raisins have plumped slightly.
For more delicious recipes like this, subscribe to Dinner Answers today!