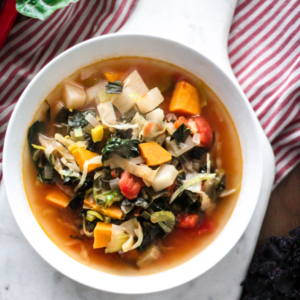 Mitochondria Miracle Soup
Ingredients
3

tbsp

olive oil

3

large onions

chopped

3

large leeks

chopped

6

cloves garlic

pressed

3

large carrots

peeled and chopped

3

small stalks celery

chopped

1

medium turnip

peeled and chopped

2

huge leaves chard

deribbed and chopped

4

leaves black kale

deribbed and chopped

4

leaves Scotch kale

deribbed and chopped

1/4

head cabbage

chopped

1/2

teaspoon

dried thyme

sea salt and freshly ground black pepper

to taste

2

small sweet potatoes

peeled and chopped

2

cans diced tomatoes

un-drained, 14.5-oz

4

quarts

homemade bone broth

or low-sodium chicken broth
Instructions
In a large soup pot*, heat the olive oil over medium-high heat; add the onion and cook until nearly translucent. Add the garlic and sauté for a couple of minutes, but don't let it brown!

Add remaining veggies; sauté for just a minute or 2 (you're not cooking them, just getting the wonderful flavor this quick step will infuse in your soup). Add the thyme, salt and pepper while sautéing.

Now place the veggies in a large slow cooker; add diced tomatoes and broth. Cover and cook on LOW for 7 to 9 hours or on HIGH for 4 to 6 hours (all slow cookers differ, depending on size, age, brand, etc…your mileage may vary). If your slow cooker isn't large enough, simmer the mixture in the soup pot on the stovetop for at least 1 hour.

Just before serving, gently mash some of the sweet potato chunks against the side of the slow cooker or soup pot to thicken the soup; give it a stir and serve.
Notes
*LEANNE'S NOTE: This is a BIG pot of soup, you may need to do a half batch so it will fit in your pot or crock cooker. It freezes well. I like to make a huge batch and freeze some of it in single servings for later.
Quick Fixes for Soup Variations (Now remember: Don't do this to the whole pot of soup…just the amount you pull out to fix yourself for lunch, etc.):
Quick Fix #1: Tex-Mex Veggie Soup: Add some salsa for a little heat (and a dash of cayenne if you like), a little ground cumin and chopped cilantro. Top with some diced avocado and more chopped cilantro.
Quick Fix #2: Tuscan Veggie soup – Add some fresh chopped basil leaves, chopped tomato and gluten free and nitrate free sausage.
Quick Fix #3: Autumn Veggie Soup – Add some diced acorn or butternut squash, a sprinkling of ground nutmeg and some chopped parsley. I also add an ample sprinkling of curry powder.
Mighty Mitochondria Soup is chocked full of veggies–and so is our Just Juiced Veggies! With 7-9 servings of fruit and veggies in every scoop, your nutrient bases are covered.