All home cooks appreciate the ease of accomplishment of doing dinner the one-pot way. When your family is busy and going in a million different directions, being able to make dinner in one pot, plunk down a salad, and yell, "Dinner!" in the time it takes to boil pasta, is critical mass for any hectic family's arsenal of timesaving tricks.
Fifteen years ago, I entered a cooking contest called Not Your Mother's Tuna Casserole. They were looking for a newer, hipper tuna casserole recipe, not that kind we all hated as kids with nasty canned peas or cream of mushroom soup.
The rules of the contest had the following criteria: one pot, no canned soups (had to mention it again—you know how I feel about canned soups!) but allowed you to use ONE convenience food. Interestingly, I had a recipe that I had made up one night when inspiration and ingredients were both lacking. It met all of the above-mentioned guidelines and in fact, had become so popular with my kids that they requested it more than once for their birthday dinners! So on a lark, I entered the contest.
When I won, I decided fate was calling me and I became a cookbook author (7 cookbooks and counting!). Yes, you could say the rest is history! So without further adieu, here's the Grand Prize winner in all her glory. Enjoy the fruit of my first labor!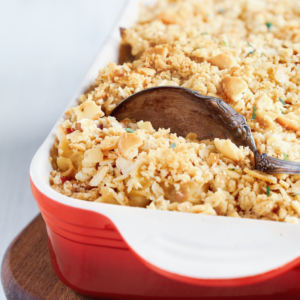 Not Your Mother's Tuna Casserole
Ingredients
1/2

tablespoon

unsalted butter

with a splash of vegetable oil (so the butter won't burn)

1

box

WHITE cheddar macaroni and cheese

not the neon orange stuff

1/2

cup

finely chopped onion

1

6-oz. can

solid white albacore tuna

drained

2

tablespoons

unsalted butter

1

cup

milk

1

cup

saltine cracker crumbs

1

cup

shredded Cheddar cheese
Instructions
Preheat oven to 350 degrees. Boil water to make boxed mac and cheese. Cook pasta and drain.

In the meantime, chop your onion, open and drain your tuna, lightly grease a 2 quart casserole dish and get ready to launch into tuna casserole land.

In the same pot you cooked your pasta, melt your 1/2 tablespoon of butter, with a splash of olive oil. Now sauté your onion and as it turns clear, add the drained tuna. Then add the milk, butter and sauce packet from the box and cook till it thickens. Schlep everything together except the saltines and cheddar and stick in your prepared casserole dish. Top with saltines and then the cheese. Bake for about 15 minutes, give or take, until the cheese is nice and bubbly on top.
Notes
COOKING NOTES: Make SURE you only use only solid white albacore packed in water. That cheapie stuff smells like cat food and will ruin the dish!
PS–You can receive delicious menus (complete with shopping lists!) like this delivered right to your email inbox by subscribing to Dinner Answers today!