The skillet is one of the best inventions since (yeah, I'll use that food metaphor), sliced bread. This wonder of precision-crafted metal can handle your dinner with ease and gives you the extra bonus of being easy on the clean-up, too.
As simple and wonderful as the crockpot is for making stews and soups, the skillet is likewise just as simple and wonderful for quick sautés, stir-fries, and other easy-to-make dinners, plus you don't have to wait all day to get it cooked!
I know a lot of people swear by their nonstick cookware, but I'm not one of them. The fact is a heavy stainless skillet will make fabulous sauces the way a nonstick cannot. Why? Because there is no "stick" and you need the "stick" on the bottom of the pan to give you those golden nuggets of flavor left by chicken (or whatever else you're cooking) to infuse savor into your sauce. This is the secret to richly flavored sauces. If you have a nonstick skillet, by all means, use it for making eggs, but skip it for skillet dinners!
So what are you waiting for? Get your skillet out and let's get busy! Here's an easy recipe for you that I guarantee you will make again and again. It's a SavingDinner.com classic with a huge fan base, so make sure you print it off and keep it. 🙂
RECIPE RAVE:
"Oh that Garlic Lime Chicken! I think I could serve that a few times a week and my husband and kids would be thrilled!" ~Kate Brown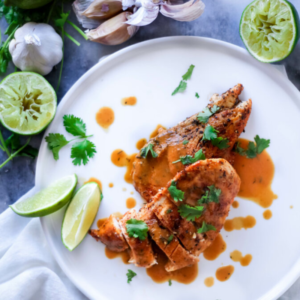 Garlic Lime Chicken
Ingredients
1/2

teaspoon

salt

1/2

teaspoon

Pepper

1/8

teaspoon

cayenne pepper

1/8

teaspoon

paprika

1

teaspoon

garlic powder

1/2

teaspoon

onion powder

1/2

teaspoon

thyme

4

boneless skinless chicken breast halves

1 1/2

tablespoons

butter

1 1/2

tablespoons

olive oil

3

tablespoons

lime juice

1/3

cup

low sodium chicken broth
Instructions
In a small bowl, combine the first 7 ingredients.

Sprinkle mixture on both sides of chicken breast halves.

In a skillet, heat butter and olive oil together over medium-high heat.

Saute chicken until golden brown, about 5 minutes on each side.

Remove from skillet and keep warm.

Add lime juice and chicken broth to the skillet, whisking up all of the browned bits from the bottom of the pan.

Cook until the sauce has reduced slightly.

Return chicken to the skillet to thoroughly coat with the sauce; serve.
Notes
Nutritional Information: Per Serving: 343 Calories; 11g Fat; 55g Protein; 2g Carbohydrate; trace Dietary Fiber; 147mg Cholesterol; 612mg Sodium. Exchanges: 0 Grain (Starch); 7 1/2 Lean Meat; 0 Fruit; 1 1/2 Fat. LC
SERVING SUGGESTION: Steamed green beans and Cauli-rice (process cauliflower in a blender or food processor until it resembles grains of rice; steam "rice" until tender; drain; salt and pepper to taste and fluff with a fork).
SERVING SUGGESTION: Serve brown rice instead of Cauli-rice. KOSHER: Use all oil instead of butter and oil.
Variations of Garlic Lime Chicken:
Tex Mex Top with cilantro, avocado, tomato, and red onion. Serve with black beans, whole wheat tortillas, and a large salad.
Capers Verison Use 4 tablespoons lemon juice instead of lime juice. Top with capers and parsley.
Are you a raving Garlic Lime Chicken fan?
PS–You can receive delicious menus (complete with shopping lists!) like this delivered right to your email inbox by subscribing to Dinner Answers today!