By: Leanne Ely
It's time once again for Tricks, Tips and a Recipe. Today you'll learn a tip, a trick and you'll get a great recipe to try it out with. Neat, huh?
Today's focus is on: MUSTARD
It's been mentioned in Sanskrit writings from 5000 years ago and in The New Testament. It was used as a food source and medicinally in ancient Greece and in ancient Rome.
It's available ground and whole. Oh, and also as a condiment.
We're talking about mustard! The Romans are believed to have been the first to make a paste from ground mustard seeds and the hotdog hasn't been the same since 🙂
Mustard seeds come from the mustard plant—a cruciferous veggie related to Brussels sprouts and cabbage—so you know that means mustard seeds are very good for us.
These little seeds contain omega-3 fatty acids and a slew of minerals including phosphorous, copper, manganese, vitamin B1 and magnesium. Mustard seeds have an anti-inflammatory effect in the body and they contain compounds believed to help protect against gastrointestinal cancer.
Now for your Trick:
Make your own mustard by soaking mustard seeds in organic vinegar or wine. After they've soaked for a day or two, grind them into a paste with any herbs and spices you might like to make your very own homemade mustard. (Try pepper, garlic and turmeric!)
Your Tip:
Mixing dry mustard with water gives this mild powder a bit of a kick. When you mix dry mustard with water, it causes an enzymatic process that punches up the heat. This also essentially makes a homemade hotdog mustard!
And your Recipe from our new 21 Day Knock Out: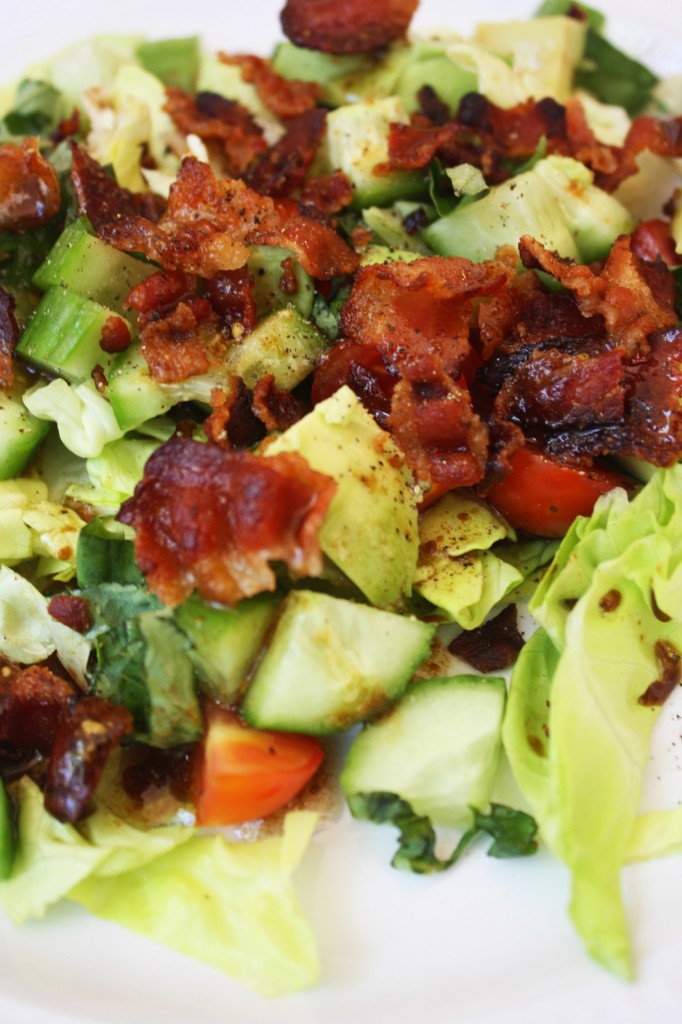 BLT Skillet Stir Fry
Serves 4
INGREDIENTS:
8 slices bacon, chopped
½ cup chopped red onion
2 cups halved cherry tomatoes
1/4 cup chopped fresh basil
2 large ripe avocados, peeled, seeded and diced
4 small heads bibb lettuce, chopped
2 medium cucumbers chopped
1/2 cup olive oil
1/4 cup balsamic vinegar
2 teaspoons mustard
1 large lemon, juiced
Sea salt and freshly ground black pepper to taste
COOKING INSTRUCTIONS: In a large skillet over medium heat, add the bacon and onion and stir.
Cook for 5 minutes, until bacon is almost cooked through. Using a slotted spoon, transfer bacon onto a paper towel lined plate. Discard the bacon fat from the skillet. Transfer bacon mixture back
into the skillet and add the tomatoes and basil. Cook mixture for 5 more minutes, until bacon is very crisp and vegetables are tender.
In a large bowl, add the avocado, lettuce and cucumbers. Spoon the bacon mixture over the top.
To a small bowl, add next 4 ingredients (olive oil through lemon juice). Season with sea salt and freshly ground black pepper to taste. Whisk together dressing.
Spoon the dressing over the bacon mixture and gently toss. Serve warm.
If you want more tasty recipes to help you stay on track, join me on our new 21 Day Knock Out only through Take Back Your Body!