Ever pass by that ugly, brown turnip-like object in the grocery store and wonder, what in the world is that thing?
Today's your lucky day.
That is jicama (pronounced HIK-ka-ma with an 'h'), a refreshing, crispy tuber that's popular in Mexican cooking. Its sweet, mild, slightly nutty flavor lends itself well to salsas, veggie trays, and as salad topping. It's also a great alternative to chips or crackers to dip into guacamole. The texture of jicama is similar to that of a raw potato or an apple.
Jicama can be eaten raw or cooked, but raw is the most popular method.
There isn't a whole lot in the way of nutrition packed into jicama, but this root vegetable does contain some fiber and Vitamin C and not too much in the way of carbs. For comparison, a cup of white potato has a little more than 30 grams of carbs, while a cup of jicama has only 11.5 grams.
If you're looking for something to add to your veggie repertoire, it might be worth giving jicama a shot.
Here's your Trick:
The brown skin on the jicama needs to be removed before you eat it. After you've removed the skin, use a sharp knife to take a slice off the top and bottom of the root so you can create a flat surface making it sturdy for cutting. Slice it in thin strips to prepare it for being added to a salad or stir fry.
And Your Tip:
When you're shopping for jicama, choose one that is medium in size with firm, dry roots. Don't buy jicama that's larger than the size of two fists. When they get that large, the sugar in them starts to convert to starches making them taste woody.
And now, your Recipe: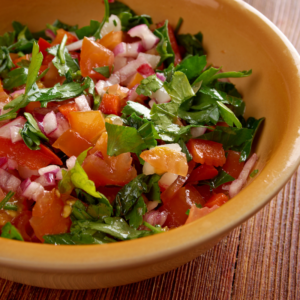 Pico de Gallo Shredded Chicken
Ingredients
3

boneless skinless chicken breast halves

5

medium

vine ripened tomatoes

chopped

1

cup

peeled and diced raw jicama

1

medium

red onion

chopped

2

cloves

garlic

pressed

3

tablespoons

lime juice

1

tablespoon

olive oil

1

jalapeno pepper

de-seeded and chopped

1

teaspoon

freshly ground black pepper

1

teaspoon

sea salt
Instructions
In a large slow cooker, place all ingredients; stir well to combine. Cover and cook on LOW for 10 hours or until chicken is fork-tender. Shred chicken with 2 forks and blend into slow cooker juices.
Notes
SERVING SUGGESTION: Serve over Cauli-Rice (process cauliflower in a blender or food processor until it resembles grains of rice; steam "rice" till tender; drain; salt and pepper to taste and fluff with a fork). Add a relish tray of carrot and celery sticks, cherry tomatoes and cucumber spears.
PS–You can receive delicious menus (complete with shopping lists!) like this delivered right to your email inbox by subscribing to Dinner Answers today!