Almond flour (or almond meal) is made from ground almonds. It's a staple in the kitchens of most Paleoistas because it can be used instead of traditional wheat flour as a foundation for gluten-free baking.
Denser than traditional flour, almond flour has a heavy texture but it also has a neutral flavor and contains all of the nutrition that almonds do, including a ton of protein.
Almond flour adds nutrients and a nutty quality to many types of dishes from pancakes and pizza crust to tempura veggies and breaded chicken.
You can substitute almond flour for traditional flour in most recipes but it will require some experimentation because of those textural differences. A word of caution, however, almond flour is very expensive so you might want to stick close to trusted recipes until you get used to cooking and baking with it.
When you go Paleo, almond flour will allow you to enjoy foods like pizza and pancakes that many of us miss with this grain-free lifestyle.
Now it's time for your Trick:
You can make your own almond flour by tossing a handful or two of blanched (skin-off) almonds into your food processor and pulsing until you end up with a meal. Be very careful because if you process those almonds too much you end up with almond butter. Store your almond flour in the fridge in an air-tight container. You should store purchased almond flour in the fridge too because it can quickly turn rancid.
Your Tip:
Almond meal and almond flour can be used interchangeably but there is a difference between the two. Almond flour is ground blanched almonds and almond meal is ground almonds with their skin on.
And your Recipe: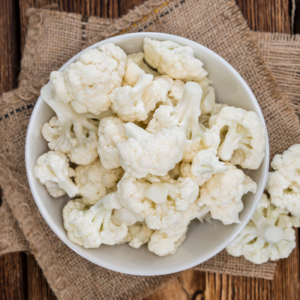 Chicken with Peppers and Cauliflower
Ingredients
4

4- to 6-oz.

boneless skinless chicken breast halves

1

tablespoon

almond flour

1

0.97-oz. envelope

dry Italian salad dressing mix, divided

1/2

teaspoon

black pepper

2

tablespoons

olive oil

divided

1

medium

red bell pepper

seeded, deribbed and thinly sliced

1

medium

yellow bell pepper

seeded, deribbed and thinly sliced

1

cup

chopped onion

2

cups

fresh cauliflower florets

3/4

cup

water

1/2

cup

shredded Parmesan cheese
Instructions
On a plate, combine almond flour, half of salad dressing mix and pepper; coat chicken on both sides.

In a large skillet with a tight-fitting lid over medium heat, heat 1 tablespoon of the oil; add chicken and cook for 4 to 5 minutes per side or until cooked through.

Remove from skillet and keep warm.

Add remaining oil to pan drippings.

Add peppers and onion and saute for 3 minutes or until lightly browned. Stir in remaining salad dressing mix, cauliflower and water.

Bring to a boil then reduce heat, cover and simmer for 2 to 3 minutes or until cauliflower is tender-crisp.

Add chicken and sprinkle with cheese.

Cover and cook just until cheese melts.
————————-
PS–Just a reminder that the 30-Day Paleo Challenge is going on right now!  The recipes and the support for this challenge are amazing!