We are gearing up for our FLY Olympics with all the determination and drive of a well-trained competitor. Your coach (FlyLady) will be pumping you up to compete in events you didn't know you could do. You're a high FLYing athlete in these FLY Olympics!
As your nutritionist, I would be remiss to not make sure your training tables were complete with gold medal foods. Notice I mention the TABLE. That's because the backseat of the minivan doesn't count. Drive-thrus aren't for gold medal athletes. Athletes need and demand more of their food.
How does this translate for us? Well, to start with we need nutrients from our food, not just volume to quell hungry tummies. The nutrient part is what is going to take us into the stratosphere of energy, health, and well-being. SO many testimonials I receive are from people who tell me what they USED to feel like and what they feel like now because they are eating healthier. Your hair and skin improve, your disposition improves and even your breath is a whole lot more pleasant! LOL And not just you either…the whole family benefits.
Baby stepping is how athletes get to the top of their field. Baby stepping is how you can turn your drive-thru dinners into a true training table for raising a healthier family.
Remember when the Summer Olympics were in Greece a few years ago? How about we stroll down Olympic Memory Lane and try a couple of Greek recipes? Here are two you'll LOVE: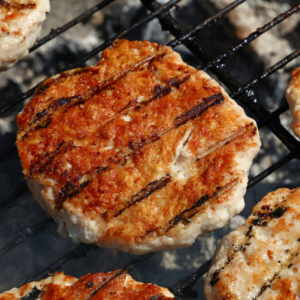 Low Carb Greek Turkey Burgers
Ingredients
1

egg

lightly beaten

1

pound

ground turkey

1/3

cup

whole wheat bread crumbs

1

tablespoon

buttermilk

2

teaspoons

Italian seasoning

1

teaspoon

garlic powder

1

tomato

diced

1/2

cucumber

diced

1/2

cup

feta cheese

crumbled

Salt and pepper to taste

to taste
Instructions
In a mixing bowl, mix together the egg, turkey, crumbs, buttermilk and seasoning. I use very clean hands to get it all mushed together.

Form four patties, salt and pepper them to taste.

In another, smaller mixing bowl, mix together the tomato, cucumber and feta. Salt and pepper to taste and toss lightly. Refrigerate until needed.

Preheat grill. Grill turkey patties on both sides, about five minutes on each side.

Turkey should be cooked through and not pink.

Serve with Tomato Feta Relish on the top.
Notes
SERVING SUGGESTIONS: A great big green salad and bowl of baby carrots and cherry tomatoes (go easy low carbers). Non-low-carbers, throw the burger on a whole wheat bun!
VEGETARIANS: Skip the turkey burger and use a veggie burger, but make up the Tomato Feta Relish for on top.
KOSHER: Skip the cheese
GLUTEN FREE: Use GF bread to make your crumbs and make sure the Feta is GF too.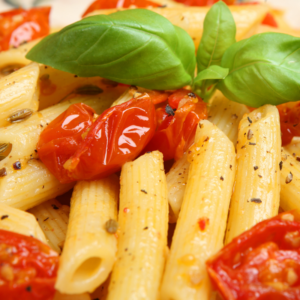 Great Greek Pasta
Ingredients
1

pound

rigatoni

uncooked

1

tablespoon

olive oil

2

cloves

garlic

pressed

1

small

red onion

chopped

3

boneless skinless chicken breast

cut into bite-sized pieces

1

large

tomato

chopped

1/2

cup

feta cheese

crumbled

2

tablespoons

lemon juice

2

teaspoons

oregano
Instructions
In a large pot, bring water to boil for pasta. Cook till al dente, drain and set aside.

While pasta is cooking, in a large skillet heat olive oil over medium high heat.

Add garlic and onion, and saute till translucent, but not brown.

Add chicken and cook until chicken is done, about 5 minutes.

Reduce heat to medium low and add tomato, feta, lemon juice and oregano.

Add pasta. Stir until completely heated through, salt and pepper to taste and serve.
Notes
SERVING SUGGESTIONS: Serve with a huge spinach salad. I make mine with baby spinach, thinly sliced red onion, a smattering of raisins, some hard boiled egg if I have it and a balsamic vinaigrette.
VEGETARIANS: Skip the chicken and add a can of drained and rinsed white beans. YUM!
KOSHER: Skip the cheese or chicken.
GLUTEN FREE: Make sure the pasta is gluten free OR you could serve this atop a bed of brown rice.