I want to teach you how to cook without a recipe. Yes, without a recipe! You see food preparation and cooking have to do with ingredients being put together in such a way that a dish magically appears. You don't have to follow a recipe to get these kinds of results. Recipes are very useful guides, don't get me wrong—but even the Dinner Diva can't make YOU Clean Out Your Crisper Soup and usually, if you're doing this right, you can't make the same soup time after time, either!
Soup is good food like the commercial says. The only problem with commercial soups is they aren't as healthy as if you made them yourself. It doesn't take much to make a great soup! But to do this, you need to know some soup basics:
1—Soup Requires Liquid. The best way to make a good soup is to make sure that liquid is flavorful. That requires broth, which is basically water cooked with meat or chicken bones or just vegetables. The water then takes on a flavor. You cannot make decent soup out of water (you start with water, but that water needs to take on some flavor from somewhere!).
2—Soup Needs Vegetables. Some good basics are onions, celery, carrots, and maybe a hint of garlic (or more if you house vampires or people with colds!). I like to start my soup with these basic veggies chopped up and sautéed in the bottom of my soup pot. From there I may add more veggies, depending on what's lurking in my crisper and needs using up!
3—Soup Needs Flavoring. Add a pinch of herbs, a dash of spice, some leftover meat, chicken, a can of fire-roasted diced tomatoes (great stuff!), or whatever else sparks your fancy. You can completely change your soup by adding different things. Remember too, that sautéing your veggies before you add broth adds complexity and more flavor than if you just throw everything into the pot to cook.
4—Soup Needs Starch. (but not always). Add pasta, rice, potatoes, or beans. If you're watching your carbs, you can still do this; just add the heated starch to the bowl and not the whole pot of soup so you can control the starch individually.
These are the components for making great homemade soup. Just remember this—soup is an incredibly forgiving substance—you almost can't mess it up. With good broth, veggies, and whatever else you want to add, you can make divine homemade soups and get all your friends asking for your recipe—I promise!
Here is a soup that is similar to what my Mom used to make. Yes, it is a recipe, but look at the basics in the recipe—they're all there, plus some nifty tricks to show you how to thicken up your soup! Easy to make gluten-free too, btw. Now go get out your soup pot and enjoy!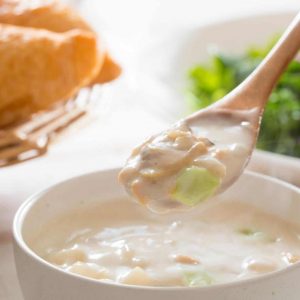 Pasta Clam Vegetable Chowder
Ingredients
2

cups

small shells

elbow macaroni or other small pasta shape -- uncooked

3

cups

milk

divided

2

cups

low sodium chicken broth

3

cups

chopped fresh vegetables

(such as zucchini, yellow squash, carrots)

1

teaspoon

dried thyme

1

teaspoon

paprika

3

tablespoons

cornstarch

2

6-oz. cans

clams

drained

salt and pepper

to taste
Instructions
Prepare pasta according to package directions; drain.

Rinse pasta under cold water until cool. Drain again.

Combine 2 1/2 cups milk, chicken broth, vegetables, thyme, paprika, and pasta in a 2-quart saucepan.

Cook over medium heat until simmering lightly but don't let it boil hard or the milk will separate.

In a separate bowl, stir the remaining 1/2 cup milk and cornstarch together until cornstarch dissolves.

Stir the cornstarch mixture into soup and heat to simmering.

Add clams and simmer, stirring frequently, 3 minutes.

Add salt and pepper to taste.

Serve hot.
Notes
Per Serving: 270 Calories; 2g Fat; 21g Protein; 41g Carbohydrate; 3g Dietary Fiber; 38mg Cholesterol; 95mg Sodium. Exchanges: 2 Grain (Starch); 2 Lean Meat; 1 ½ Vegetable.