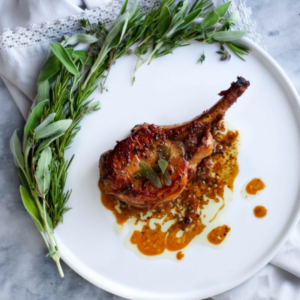 Pan-Seared Butter Braised Pork Chops with Herb White Wine Reduction
This recipe is every inch as mouth watering as it sounds. "pan seared" - "butter braised" - "pork chops" - "herb white wine reduction" - what we didn't include in the recipe name (since it was already crazy lengthy) was we topped it with FRIED SAGE. Oh mama. Everything good exists in this scrumptious recipe. Pork chops can be real buggers to cook - often becoming tough or flavorless or both - not these beauties. The right combo of the right methods makes these pork chops perfectly juicy and flavorful.
Ingredients
CHOPS:
1/2

cup

apple cider vinegar

1/4

cup

olive oil

4

large cloves

garlic

minced

5

sprigs

rosemary

minced

4

thick-cut

bone-in tomahawk pork chops

or boneless pork chops

sea salt and freshly ground black pepper

to taste

3

tablespoons

ghee
SAUCE:
4

sprigs rosemary minced

6

sprigs thyme minced

8

leaves

sage minced

2

tablespoons

grass fed butter

1

medium shallot finely chopped

1

cup

dry white wine

1 1/2

cups

bone broth or low sodium chicken broth

10 to 12

leaves

sage fried

sea salt and freshly ground black pepper

to taste
Instructions
In a medium bowl, mix together first 4 ingredients (vinegar through rosemary), then set aside.

Season both sides of pork chops with salt and pepper, then place in large zipper topped plastic bag. Pour garlic mixture over the top, make sure chops are evenly saturated, let out excess air, seal and place in refrigerator to marinate for at least 1 hour (up to 48 hours).

At time of cooking, heat ghee in a large skillet over medium heat. Remove pork chops from refrigerator and marinade, and once ghee begins to sizzle, add pork to skillet.

Sear for 5 minutes, not touching the pork chops, then flip and sear for another 5 minutes, again, not fidgeting with them.

After you've seared them on both sides, add the butter to the pan, along with a pinch of the minced herbs (rosemary, thyme, sage) - only a pinch, set the rest aside.

Using tongs, flip the pork chops, and then baste (with a basting brush) with ghee/butter/herbs in the skillet. Repeat this process for 5 minutes. Continuously flipping and basting as you go.

Then remove pork chops from skillet, and add the shallot. Sauté for about 2 minutes or until shallot is fragrant and translucent.

Deglaze pan with splash of the wine. Using a whisk to get all the good bits off the bottom of the pan, continue whisking for about 2 minutes, then add remaining wine, herbs, and broth. Season with salt and pepper to taste.

Bring to a boil, and allow to boil until liquid has reduced by half, then reduce heat to low and simmer for at least 10 minutes.

Serve pork with a generous ladle of sauce and a couple fried sage leaves.
Notes
To fry sage:
Heat 1/3 cup olive oil in a small skillet over medium heat. Once it begins to pop, add a handful of sage leaves. Fry for 3 to 5 seconds (seriously, it fries crazy fast), then immediately remove and place on a paper towel covered plate. Continue until you have as much as you need. Season with a sprinkle of sea salt and you're good to go!
Subscribe to Dinner Answers today for more delicious Paleo recipes!