Spring has definitely sprung here in North Carolina—the daffodils are smiling, the Bradford pear trees have bloomed and leafed out and it's starting to warm up! I adore the spring.
And while I am not a believer in spring cleaning, I will tell you my pantry could sure use a dose of it! Open the door to my pantry and you'll see what I mean. I am going to have set my timer for 15 minutes more than once to get it straightened out.
How's your pantry looking? Do you have 5 cans of tuna scattered about the cupboard instead of all stacked up together. Can you find cereal boxes here, there and everywhere? How about your staples, like flour, sugar, baking powder, cornstarch, etc.? Are they grouped together into a baking center or do you have to go on a pantry scavenger hunt to find them all?
Let's do a little pantry perk-up, shall we? Set your timer for 15 minutes and start getting your dry goods in logical order. Like goes with like. You'll want a shelf for the canned goods (and put the same thing all together, too). A big basket to hold your bags of dried beans, a smaller basket to hold envelopes of spice blends, mixes, etc. (look around the house, I bet you have what you need), and if you haven't done it already, big containers (I like big glass jars) for your flour, sugars, oatmeal, etc.
Getting your pantry together will help you get your meal planning in order, too. Don't forget to do a 27 fling boogie on your pantry if necessary. Get rid of the stuff you don't use (donate it to a food bank if it's good, usable food) and watch your pantry "spring" to new life, blossoming with all sorts of possibilities!
Here's a wonderful spring dinner recipe to get you in the mood for a good pantry routing: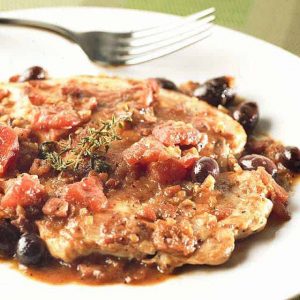 Chicken Nicoise
Ingredients
1

cup

dry white wine

or use low sodium chicken or vegetable broth

4

boneless, skinless chicken breasts

2

cloves

garlic

pressed

1/3

cup

frozen pearl onions

or you can use the same amount of chopped onion

1

tablespoon

olive oil

1

teaspoon

Italian seasoning

1

small red bell pepper

deribbed, deseeded and sliced into strips

4

olives

per person - use what you like (I prefer Kalamatas)
Instructions
Heat 1/4 cup of the wine (or chicken broth) to boiling in a skillet. Cook chicken in wine, turning once, until brown. Remove chicken and keep warm.

Add garlic, onions, olive oil, Italian seasoning, bell peppers, olives and remaining wine (or broth) to skillet and heat till boiling. Simmer for 5 minutes.

Add chicken back to the skillet, reducing heat to medium low. Cook 10 to 15 minutes until chicken is cooked thoroughly.
Notes
Per Serving: 212 Calories; 5g Fat; 27g Protein; 4g Carbohydrate; 1g Dietary Fiber; 66mg Cholesterol; 117mg Sodium. Exchanges: 0 Grain(Starch); 3 1/2 Lean Meat; 1/2 Vegetable; 0 Fruit; 1 Fat. Points: 4 LC SERVING SUGGESTION: Serve over cauli-rice alongside sauteed green beans. (To make cauli-rice trim cauliflower and cut into piece small enough to feed through food processor tube. Process cauliflower till it is grainy and resembles rice. Steam 'rice', and fluff with a fork.) SERVING SUGGESTION: Add some brown rice instead of Calui-Rice. VEGETARIANS: Skip the chicken and opt for a Boca Chikin patty or another veggie patty. Cooking time will be less. KOSHER: None needed.