Peaches are starting to come in season and for most people, the intoxicating aroma of peaches signals that summer is really and truly here. This sweet, tasty, and juicy fruit is thought to have originated in China. It grows in hot subtropical climates like Georgia and I know we've all heard of Georgia peaches!
Peaches don't ripen after they are harvested so they must be harvested at peak ripeness for eating fresh. Otherwise, they are great for jams, pies, and canning.
A healthy fruit, only about 50 calories for a medium-sized peach, they're packed with vitamins A and C and are a great source of fiber. The fiber will be higher if you eat the peel, but make sure it's organic first! Peaches also contain potassium, calcium, magnesium, phosphorus, and folate, a B vitamin that is essential to the development and preservation of new cells.
Here's Today's TRICK:
Creamy to gold undertones on a peach indicate ripeness, not the redness of color. Your peach should smell good, have a nice crease, and a fuzzy, soft skin. Remember, you cannot buy unripe peaches and wait for them to get ripe, they only ripen on the tree.
Here's a TIP:
If you've let your peaches get overripe, make chutney! (recipe below)
And your RECIPE: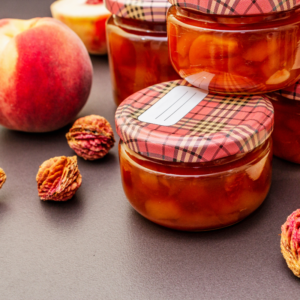 Crock Cooker Spicy Peach Chutney
Ingredients
4

pounds

sliced peeled overripe peaches

1

cup

raisins

2

cloves

garlic

pressed

1/2

cup

chopped onion

5

ounces

chopped preserved ginger

found in the ethnic section of your store

1 1/2

tablespoons

chili powder

1

tablespoon

mustard seed

1

teaspoon

curry powder

4

cups

packed brown sugar

4

cups

apple cider vinegar

1/4

cup

pickling spice

place in cheesecloth and tie shut
Instructions
Place everything in a crockpot and cook on high 4 hours. Allow to cool, give it a stir and divvy up into pint sized containers. You can freeze for a later date if you like. Serve on grilled meat or poultry. Delish!
Another great place to use peaches is in a smoothie! Our Smoothie Menus are great for using those fresh summer fruits, pick yours up today!