Apples aren't the only fruits ripening on the trees right now. It's a great time of year for pears! If the best of pear season has ended where you live, there should still be plenty of fresh pears around, so poke around the farmers' market next time you're there. Or even better, call your nearest orchard and see if there are any pears available.
I like juicing pears, slicing them on my salads and snacking on them as nature intended.
The most common varieties of pear in North America are Bartlett, Bosc, Anjou, Concorde and Comice. And whichever variety you can find to sink your teeth into, you'll be enjoying a sweet serving of antioxidants.
Pear skin is extremely rich in phytonutrients. In fact, the skin of the pear is about four times higher in these nutrients than the sweet flesh of the fruit. Those phytonutrients include anti-inflammatory flavonoids, antioxidants, and cancer-fighting power.
The skin of a pear fruit is also very high in fiber.
Since you want to eat that pear skin, you better buy organic. If you can't find organic pears, scrub the heck off of the surface of the fruit before enjoying. If you peel it, you're tossing away all of that nutrition.
But the peeling isn't the only nutritionally dense part of this sweet fruit. The flesh and the juice are both beneficial as well.
Pear juice is considered a superior fruit juice. In most cases, the cloudier the juice, the more nutrient-dense it is. Pear juice is quite cloudy.
In addition to the antioxidant, cancer prevention, and anti-inflammatory properties that pears contain, they are also rich in vitamins C and K, easy to digest, and they're even hypoallergenic!
Here's one of my favorite pear recipes.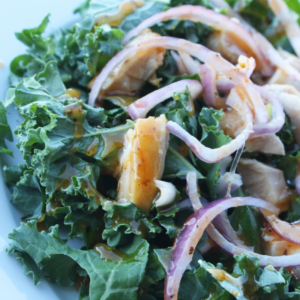 Pear Chicken Salad
Ingredients
1

tablespoon

coconut oil

1

pound

boneless

skinless chicken breasts, chopped

Sea salt and freshly ground black pepper

to taste

1

clove

garlic

minced

2

large

pears

cored and chopped

4

cups

chopped kale

1/2

cup

sliced red onion

1/4

cup

extra virgin olive oil

4

tablespoons

orange juice

1

teaspoon

champagne vinegar

1

teaspoon

raw honey

1

teaspoon

chili powder
Instructions
In a skillet over medium heat, heat coconut oil. To the oil, add the chicken, salt and pepper and garlic. Cook for 10 to 15 minutes, until chicken is no longer pink in the center.

In a large bowl, toss the pear, chicken, kale, and onion.

In a small bowl, whisk the remaining ingredients (extra virgin olive oil through chili powder). Pour dressing over salad and serve.
Want MORE delicious recipes like this one? Subscribe to Dinner Answers today!