Poaching is method of cooking that is perfect for bringing out the best in delicate foods such as eggs and fish. Some people expand that to include chicken and shellfish and even fruits, but I stop with the eggs and fish, personally. I adore poached salmon and am sharing a favorite recipe with you today.
And here's a TRICK:
To keep your poached foods submerged, press a sheet of parchment paper right onto the surface of the poaching liquid. Works great! Just make SURE you use parchment, NOT wax paper, ugh! Guess how I know this??
And a TIP:
To poach flawlessly, you will want to make sure your liquid temperature is somewhere between 160 degrees and 170 degrees. To eyeball that temp, without having to resort to thermometers, look at the water (or wine or broth). The liquid should look like it is JUST about to break into a simmer, but not quite. Almost like it is ready to show some movement, but it hasn't quite yet. I know you know what I mean. That's poaching temperature.
And your RECIPE
from the original Saving Dinner book: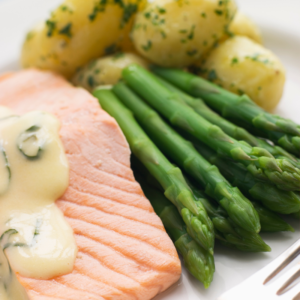 Poached Salmon with a Creamy Horseradish Sauce
Ingredients
6

cups

water

2

lemons

sliced

2

carrots

sliced

2

stalks celery

sliced

6

6-oz.

salmon steaks

or fillets

1/2

cup

low fat mayonnaise

1/2

cup

low fat sour cream

3

teaspoons

prepared horseradish

not creamed

2

teaspoons

lemon juice

2

green onions

chopped
Instructions
Combine first 4 ingredients in large skillet; cover and bring to a boil. Reduce heat and simmer for 10 minutes. Add salmon, cover, lower the heat some more and simmer another 10 minutes. Remove skillet from heat and let stand for 8 minutes. Remove salmon to serving plate; set aside.

Creamy Horseradish Sauce: In a bowl, combine last five ingredients (mayo through green onions). Serve with salmon.
Notes
SERVING SUGGESTIONS: Serve with steamed baby red potatoes, green beans and carrots.
PS–You can receive delicious menus (complete with shopping lists!) like this delivered right to your email inbox by subscribing to Dinner Answers today!