Not many people think of radishes as something more than a salad garnish – you know, pretty, but not something you necessarily want to eat. But radishes are actually great for snacks and including in meals! They're spicy and sweet, rich in potassium, ascorbic and folic acid, vitamin B6, and calcium. A whole cup is only 20 fat free calories! So start thinking outside the garnish!
Once upon a time, radishes were of such value in Greece, that statues were made in their image…out of gold!
Radishes with their spicy flavor, are related to wasabi. So, if you enjoy the kick of wasabi, you will probably also enjoy the heat of radish.
These days, radishes don't receive as much fanfare as they should, as far as I'm concerned. These pretty pink spring veggies are not only widely available, but they are absolutely packed with nutrition.
Let's take a gander at the health benefits in radishes.
Fiber
Since radishes are most often served on salads, they are generally surrounded by fiber, but radishes also contain about a gram of fiber per serving. Fiber, of course, can reduce your risk of developing diabetes, diverticulitis, heart disease and colon cancer. So eat up!
Vitamin C
There is a ton of vitamin C in radishes, especially considering their size. You can get 14% of your daily recommended amount of vitamin C from a 1/2 cup serving. Vitamin C is important for our overall health. It's not stored by the human body, so we need to take in lots of vitamin C in our daily diet to replenish our supplies.
Cancer Prevention
There are compounds in a radish root that can actually induce cell death. That's right. Radishes have the power to kill cancer cells.
Minerals
Besides fiber and vitamin C, from a serving of radishes, you'll receive good amounts of folate, vitamin K, B vitamins, manganese, potassium, iron, magnesium, calcium, copper, zinc and sodium.
Radishes are delicious sliced into salads and eaten raw, but they also add a nice spice to a pot of vegetable soup. Radish sprouts are amazing in a salad, giving it a nice peppery heat. Mmm mmm.
Here's Today's TRICK:
Before storing in the refrigerator, be sure to remove the tops of the radishes and they'll last up to 7 days. And one more little trick: you can use radishes in place of turnips in recipes!
Here's a TIP:
Before preparing, use a vegetable scrubber and wash under cold water.
Here's your Radish Recipe: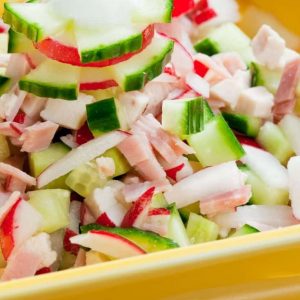 Chicken Radish Salad
Ingredients
3

cups

cubed cooked chicken

4

eggs

hard boiled, chopped

1

carrot

julienned

1

cup

radishes

sliced very thin

1

apple

chopped

1

cucumber

chopped

3

green onions

chopped

1

teaspoon

fresh squeezed lemon juice

3/4

cup

Greek yogurt

Salt and pepper to taste
Instructions
In a large bowl mix all ingredients together, adjusting the yogurt to your liking, salt and pepper to taste.

Serve on a bed of lettuce, or in pitas, or wraps.
Looking for more delicious recipes like this one? Check out our Dinner Answers program today!