Today's Focus is on LYCHEE
Lychee (pronounced lie-chee or lee-chee) fruits have been cultivated by the Chinese since 1700 BC (or thereabouts). They were actually quite revered back in those days. Poems have been written about these little fruits! Let's see why.
Generally round in shape, lychees are about the size of a walnut shell with a textured skin. Lychee fruits are reddish-brown or pink in color. When the skin is removed, lychee flesh is rather like a pearl-colored jelly. It has quite a sweet, delicate taste.
Lychee fruits are high in fiber, Vitamin C, potassium, calcium and phosphorous.
Try lychee just out of the skin. Bite off the top, squeeze the fruit in your mouth and discard the seed found in the center of the gelatinous orb. Lychees can also be enjoyed in stir fries for a sweet punch, or sliced onto a salad (don't forget to remove the stone first!).
You can also try removing the stone, wrapping the lychee in bacon and popping it in the oven like you would bacon-wrapped scallops. Mmm.
Now it's time for your Trick:
Look for lychee with a stem still attached. The skin should be fresh and firm looking.
And your Tip:
Lychee fruits should be refrigerated in a container and used within 7 days.
And your Recipe: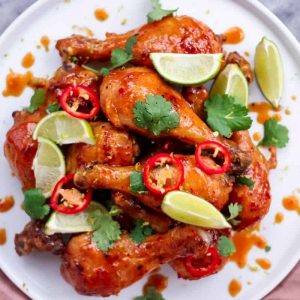 Chicken Drumsticks with Sticky Lychee Glaze
Ingredients
3

pounds

chicken drumsticks

Olive oil

Sea salt

Freshly ground black pepper

cup

½lychee flesh

1

lemon

zested and juiced

1

lime

zested and juiced

1

red chili pepper

seeded and chopped, or jalapeno

3

cloves

garlic

1

medium shallot

1

cup

dry white wine

1

tablespoon

fish sauce

1

tablespoon

raw honey

1

tablespoon

freshly grated ginger
Optional Garnish
Citrus zest

Cilantro

Pepper slices
Instructions
Preheat oven to 400 F. Saturate drumsticks with olive oil and season with salt and pepper. Place chicken, on a parchment lined baking sheet. Roast, about 45 minutes or until chicken is cooked through and skin is crispy.

While chicken is cooking, prepare Glaze. Combine remaining ingredients (lychee through ginger) in a food processor, and blend until smooth. Season with salt and pepper to taste.

Brush glaze over drumsticks during the last 5 minutes of cooking. Then brush some more on when chicken is removed from oven, and serve with cilantro and pepper slices for garnish!
Looking for more delicious recipes like this one? Check out our Dinner Answers program today!